Last Updated on
This post may contain compensated links. Please read our disclosure for additional information. As an Amazon Associate, I earn from qualifying purchases.
After a recent visit to Liverpool (and my first ever visit to the famous Cavern Club) I have put together this handy guide of things to do in Liverpool for Beatles fans. While some of these places are very famous (and feature in many Beatles songs) this list and my Beatles fans one day itinerary for Liverpool will ensure you make the most of your time in this great city and don't miss any of the must-see sights!
If you are traveling to the UK (or live in the UK and want to explore more) why not join my UK TRAVEL PLANNING GROUP where you can ask questions and research, plan and organise your trip. We are a friendly bunch and love sharing our knowledge and tips to help you make the most of your visit to the UK.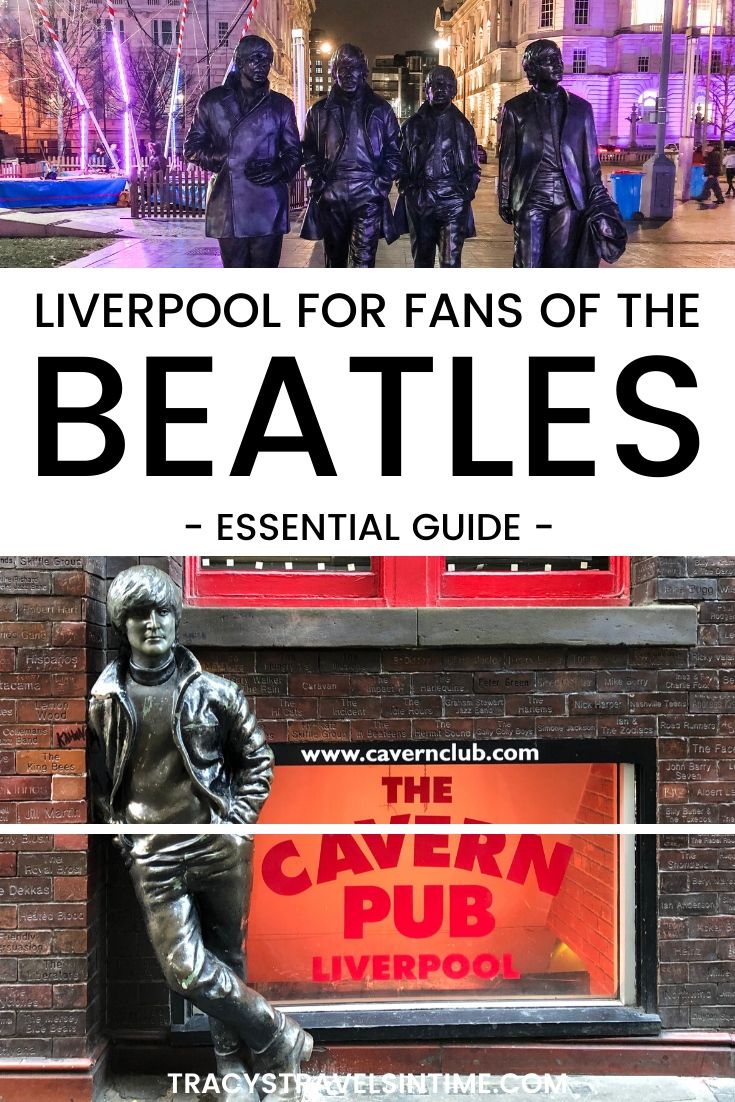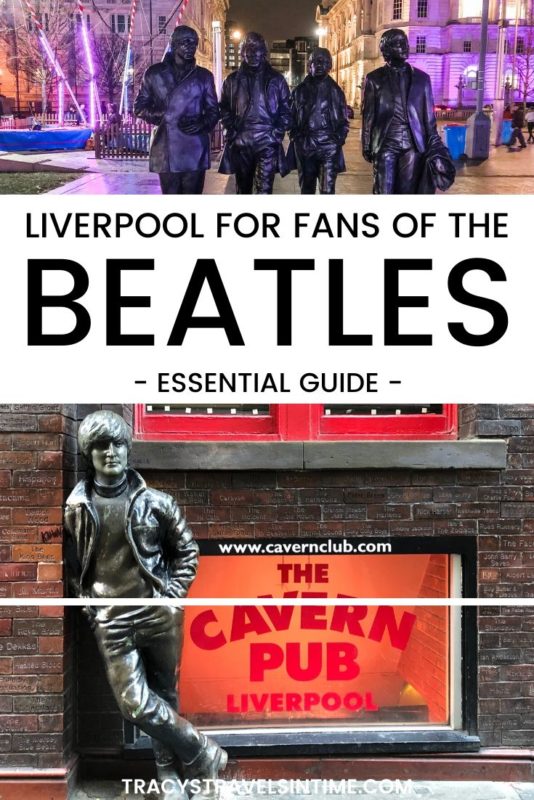 8 MUST-VISIT PLACES IN LIVERPOOL FOR BEATLES FANS
You can't go to Liverpool as a Beatles fan without wanting to visit the legendary Cavern Club – probably the most famous club in the world. The Beatles were playing at the club when Brian Epstein visited one lunchtime in November 1961. He decided to manage the band and the rest is history!
Since the 1960s the Cavern Club has been through a lot of changes. The club today has a different entrance and has been turned 90 degrees from its original orientation but do not let that put you off visiting. The atmosphere is great and the club features live music 7 days a week from 10am (9.30 am during the summer holidays).
There is lots of memorabilia to check out in the club (as well as lots of names scrawled all over the walls and ceilings by Beatles fans over the years) We couldn't believe our eyes when we saw our names – Doug and Tracy – written on the ceiling above us.
FAQS FOR VISITING THE CAVERN CLUB
◊ Location of the Cavern Club – 10 Mathew Street, Liverpool, L2 6RE
⇒ Opening times and prices
Monday – Wednesday
10am -12 noon FREE
12 noon onwards – £2.50
Thursday
10am – 12 noon FREE
12 noon – 7pm £2.50
7pm onward £4
Friday/Saturday/Sunday
Open 10 am to 2 am
10 am – 12 pm FREE
12 pm – 8 pm £2.50 (no re-entry)
8 pm – 2 am (12 am Sunday) £5 (no re-entry)
All day/All night ticket (re-entry allowed) £6 (£5 if purchased in advance)
Good to know – If you go on the Magical Mystery Tour your ticket also entitles you to free general admission to the front stage of the Cavern Club on the evening of your tour!
Note – Children under the age of 18 are not allowed in the Cavern Club after 8 pm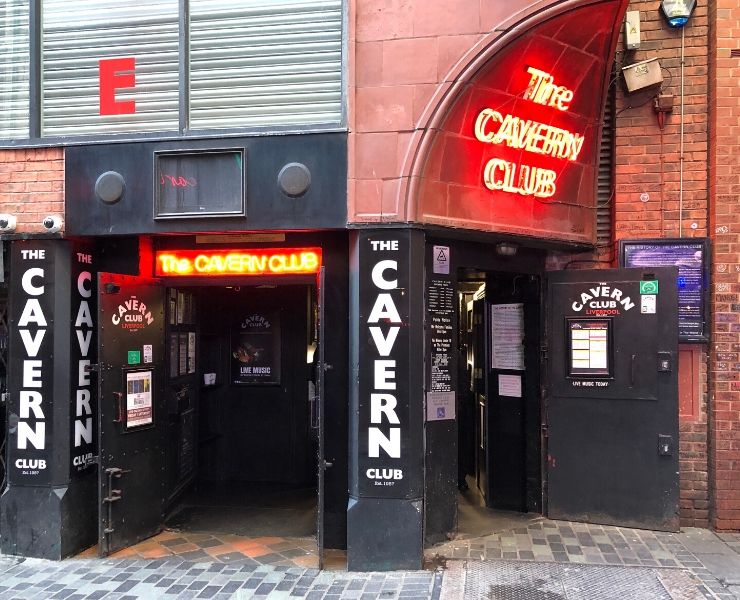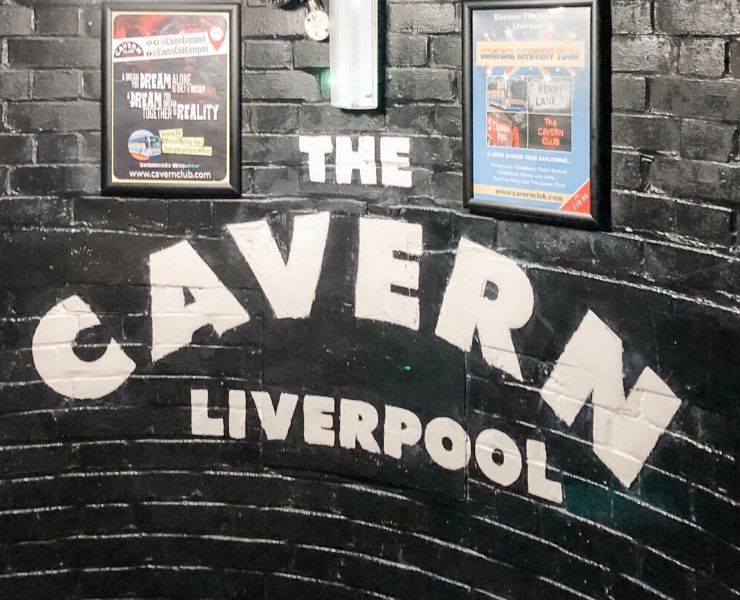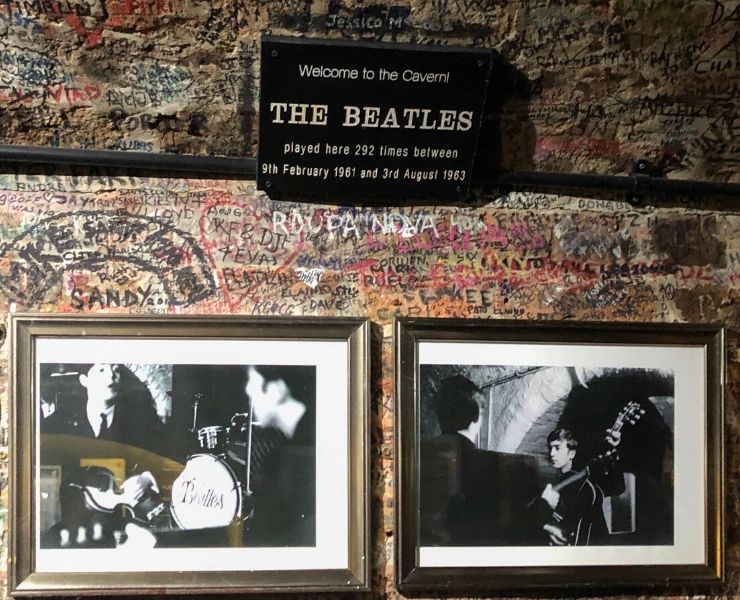 Just along from the Cavern Club (on Mathew Street) is the legendary pub where the band would chill out between gigs. Recently reopened (2019) the pub has been revamped and refurbished and has lots of Beatles memorabilia on show for fans.
◊ Location of the Grapes Pub – Mathew Street (along the street from the Cavern Club)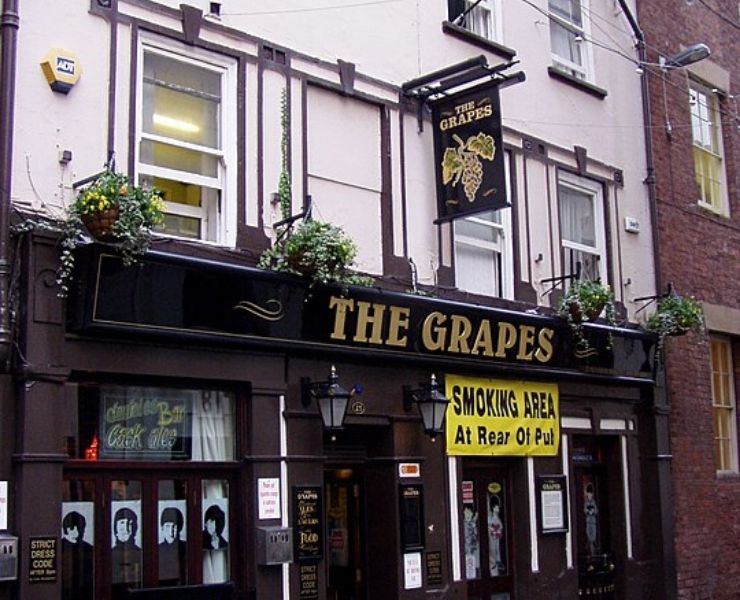 Located at Albert Dock the Beatles Story Museum is an award winning attraction which takes you on an immersive journey telling the story of the Fab Four and their rise to international fame and fortune.
The museum is a must visit for Beatles fans with lots of memorabilia, exhibitions, photographs as well as replicas of the Casbah, Mathew Street and The Cavern to experience.
THE STATUES – THE GROUP STATUE/JOHN LENNON'S STATUE AND THE ELEANOR RIGBY STATUE
There are a number of Beatles statues you really can't miss when visiting the city!
Every time I visit Liverpool I have to have a picture posing with the group statues of the Beatles. The problem is so does every other visitor! Be patient you will eventually get the picture but do expect a wait in the busy summer months when there can be lots of people posing with the Fab Four!
The group statue is located at the Albert Docks.
The other statues to look out for are the John Lennon statue which can be found on Mathew Street and the Eleanor Rigby statue located at Stanley Street around the corner from Mathew Street!)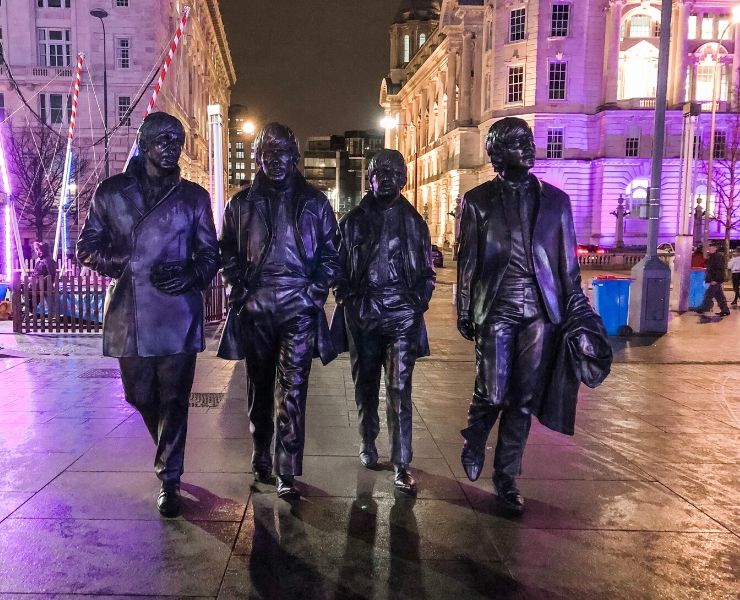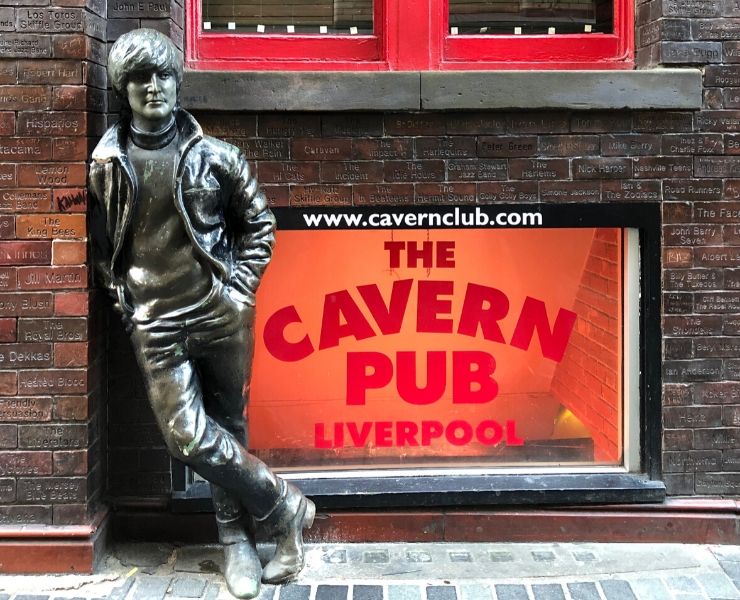 Strawberry Field was a former Salvation Army children's home and is of course the inspiration behind the Beatles song of the same name. Apparently John Lennon used to play in the grounds of the home and following the release of the song the red gates have become something of an attraction for fans. So much so that a few years ago they were actually stolen!
Located on Beaconsfield Rd Strawberry Field is a quick stop on any Beatles tour (photo opportunity with the gates!) If you want to visit independently and spend more time at Strawberry Field (to explore the grounds and exhibition ) tickets are available.

If you take a tour you will get the chance to hop off the bus and take a shot of the sign for possibly the most famous lane in the world! So many of the signs have been stolen over the years that the council eventually resorted to installing theft proof ones (though apparently some still get pinched!)
At the end of Penny Lane was the terminus for bus routes taken by the lads during their childhood and the inspiration behind the song.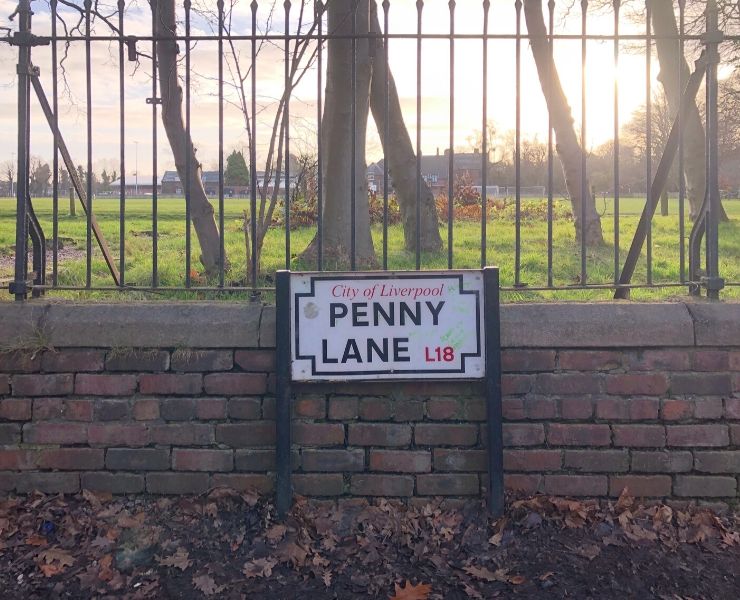 MENDIPS – 251 MENLOVE AVENUE
The childhood home of John Lennon – "Mendips" – belongs to the National Trust. It is at present shut for conservation work until the 4th March 2020. After that date it is possible to purchase a combined tour of "Mendips" and 20 Forthlin Road and step inside the childhood homes of both John Lennon and Paul McCartney.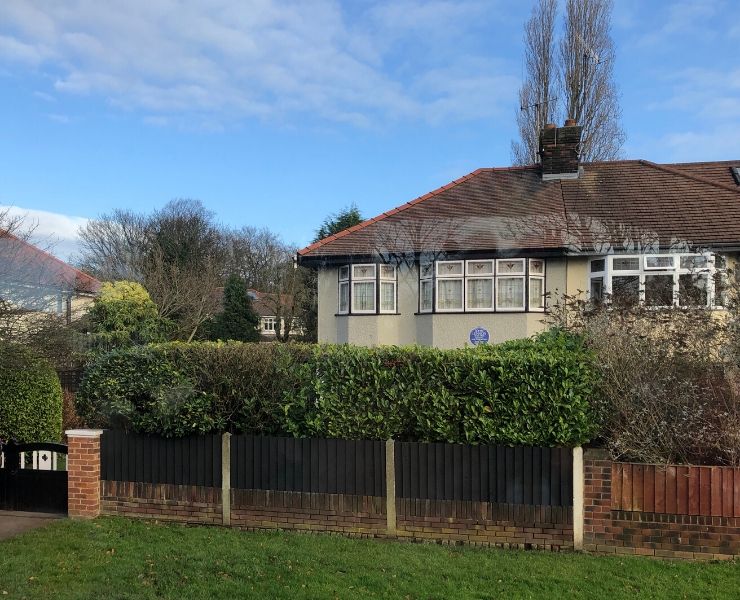 The former home of Paul McCartney and family is located at 20 Forthlin Road. The house belongs to the National Trust and as with "Mendips" is at present shut for conservation works (until 4 March 2020) It will be possible to take a tour of both childhood homes with the National Trust after that date.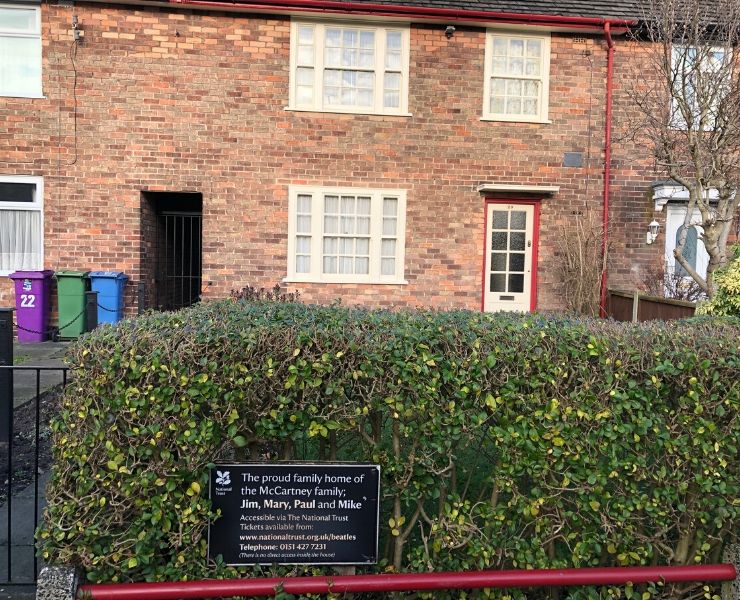 HOW CAN YOU SEE ALL OF THESE BEATLES SITES IN LIVERPOOL?
JOIN A TOUR OF COURSE…. BUT WHICH IS THE BEST BEATLES TOUR?
There are lots of great Beatles tours to choose from which will ensure you can visit some of the sites that are a little harder to get to. The advantage of a tour is that you also find out a lot more about the history of the band and their lives before they became famous (and get to listen to a lot of Beatles music along the way). We had great fun on our tour so highly recommend booking some tickets and joining one. These are my top choices
BEATLES MAGICAL MYSTERY TOUR
Hop onto the Magical Mystery Tour bus for a 2 hour tour of the places associated with the Beatles around Liverpool. We loved hearing all the stories about the Fab Four from our guide Neil and he knew everything there was to know about the band (I can't remember exactly how many years he had been taking tours but it was in double digits!)
I recommend booking tickets asap if you plan to take the tour as it is VERY popular. We took the tour during the first week of January and the bus was full. We had a fab time and at the end of the tour the bus drops you off along the street from the Cavern Club (Mathew Street) and the Beatles themed Hard Day's Night Hotel.
Tip – Collect your tickets the Magical Mystery Tour Ticket office at Anchor Courtyard at Albert Dock at least 10 minutes before your tour departure time. I recommend giving yourself time to find the ticket office as it took us some time to locate!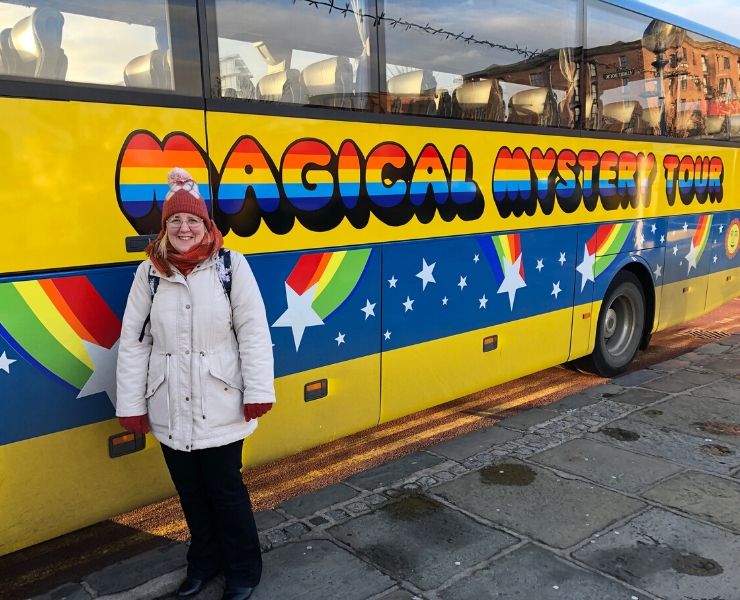 If you prefer a smaller tour (and a more personalised option) why not take a Beatles tour by taxi? This 3 hour private tour by traditional taxi includes iconic sites such as Penny Lane and Strawberry Fields.
Sit back and relax while a local guide shows you the landmarks that inspired the legendary "Fab Four."
If you want to visit Liverpool from London it is possible to take a Beatles themed day tour. The tour I am recommending also includes all of the following and is a fantastic option for any Beatles fan.
Return train ride from London to Liverpool

A free city map

2-Hour Guided Magical Mystery Tour of Liverpool including the Cavern Club

Entrance to the Beatles Story Exhibition
WHERE IS THE BEST PLACE TO STAY IN LIVERPOOL FOR A BEATLES FAN?
I loved writing that question because the answer is so easy. Liverpool is the home of the world's only Beatles themed hotel – The Hard Day's Night Hotel!
If you are planning to stay overnight in Liverpool and are a Beatles fan there is no other option – THIS is the hotel to stay at! (Though it is popular so BOOK AHEAD – of it is fully booked the other hotel option I would recommend (and have stayed at) is the Ibis Styles Liverpool Centre Dale Street – Cavern Quarter)
If you prefer an apartment try the Beatles Apartment which has excellent reviews for its location, clean and modern interior and themed memorabilia.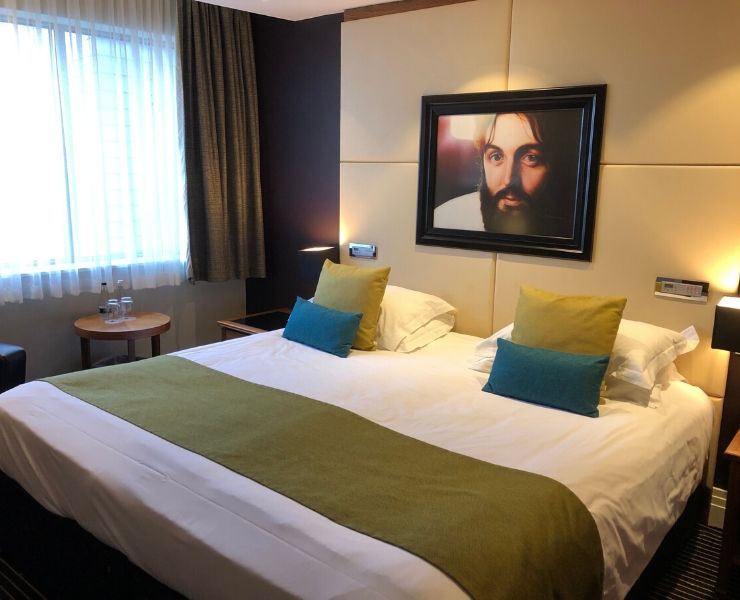 ONE DAY ITINERARY IN LIVERPOOL FOR BEATLES FANS
So if you have only one day to see as much as possible what should you include in your itinerary? This is my suggested itinerary based on our own visit to Liverpool.
MORNING
Head down to the Albert Docks for an early morning selfie with the statue of the Fab Four.
Spend an hour at the Beatles Story Museum before taking a stroll around the Albert Dock and purchasing a few Beatles souvenirs and sweets!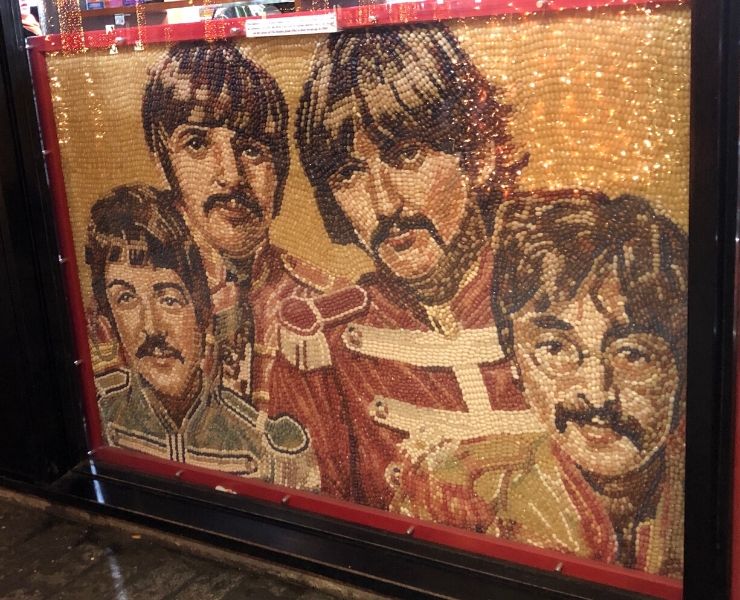 LUNCH
Stay at Albert Docks where there are lots of restaurants and cafes to choose from for lunch.
Highly recommend any of the following places to eat
A selection of North/South American and Tex-Mex style dishes served up in former Granada TV studios.
For burgers, sandwiches and sharing platters head to Revolution.
AFTERNOON
Join one of the Beatles tours and learn even more about Paul, George, Ringo and John whilst singing (or humming) along to some of their most famous tunes!
EVENING
Head to the Cavern Club after checking into the Hard Day's Night Hotel (which is literally around the corner from Mathew Street the location also of the John Lennon statue and the Grapes Pub) If you are a fan of Cilla Black don't miss the opportunity for a selfie with her statue which is also located in the street.
If you are hungry I highly recommend booking at table at Mowgli for delicious Indian street food.
Dance the night away at the Cavern Club before retuning to the Hard Day's Night Hotel!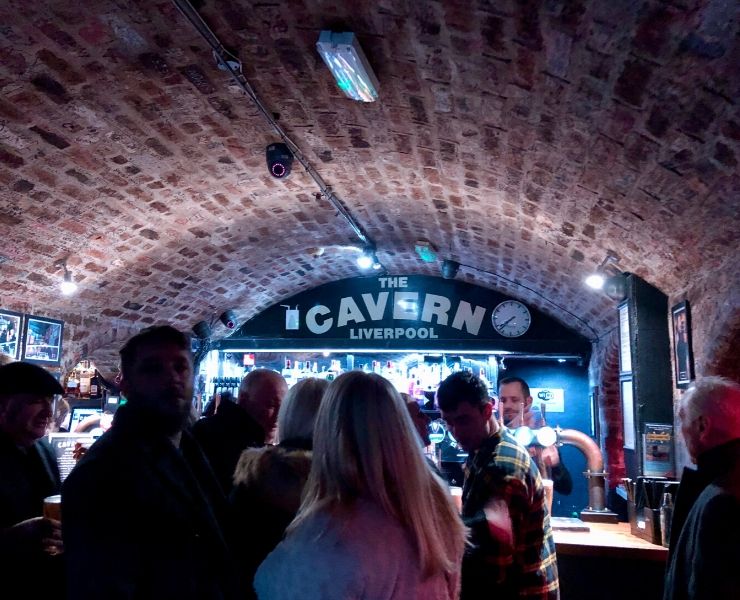 ENJOY YOUR TRIP!
I am sure you will love your time in Liverpool and hopefully this itinerary and guide has given you loads of ideas and tips to make the most of your visit.
If you are visiting Liverpool between 26th August and 1st September 2020 it is International Beatles Week. With over 70 bands from over 20 countries and fans traveling from all over the world it is a fantastic time to visit the city.

PRACTICAL INFORMATION FOR VISITING LIVERPOOL
BEST WAYS TO GET TO LIVERPOOL
Trains from London take approximately 2 1/2 hours from Euston station to Liverpool Lime Street.
CLICK HERE FOR TRAIN TIMES, PRICES AND TICKETS TO LIVERPOOL LIME STREET
BEST WAYS TO GET AROUND LIVERPOOL
Liverpool is a very walkable city with lots of shops, restaurants and of course Beatles sights around the Albert Dock area and city centre.
If you are intending to visit some of the Beatles sights that are a little further out I would recommend a tour.
There are Beatle themed walking tours available or alternatively take the hop-on hop-off bus which includes 14 stops around the city.
FURTHER READING FOR YOUR LIVERPOOL TRIP
Check out the Cavern Club's official website for further information about which live bands are appearing.
PIN FOR LATER – THINGS TO DO IN LIVERPOOL FOR BEATLES FANS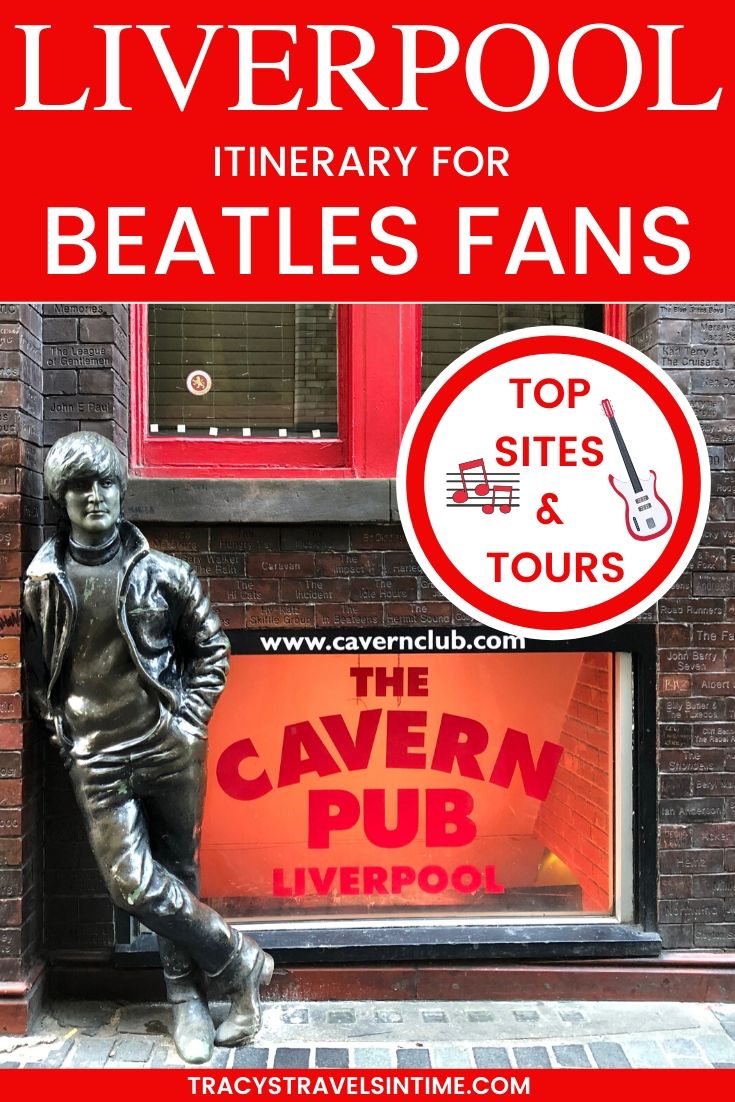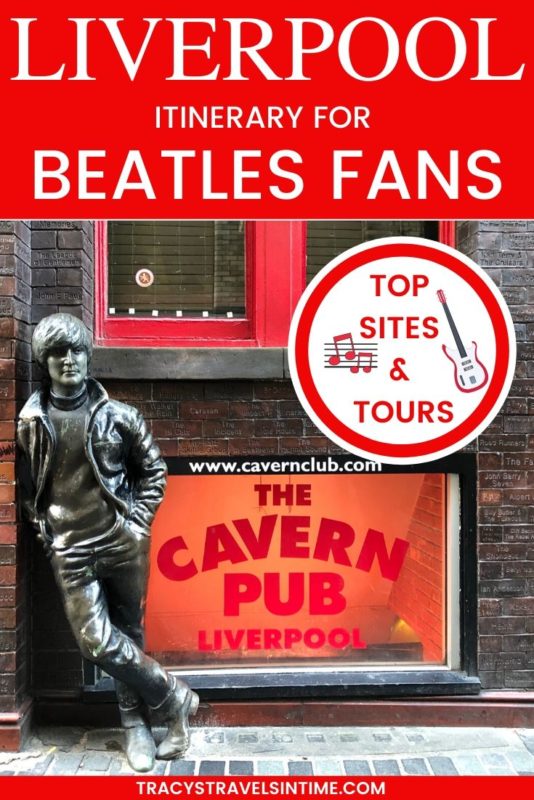 YOU MAY ALSO ENJOY THESE ARTICLES
This post may contain compensated links. Please read our disclosure for additional information. As an Amazon Associate, I earn from qualifying purchases.
Over the last 50 years I have lived and worked in 7 countries on 4 continents and travelled to many more. I enjoy exploring and learning about new places and meeting people on my travels. History, reading, photography, nature and wildlife are my interests and I am ALWAYS researching and planning my next trip (preferably by train)
With a lifetime of travel experience, and a network of friends all over the world, I share genuine insider guides, recommended best book lists and train journey inspiration to help YOU travel authentically to some of the most beautiful places on earth.
Come and join me as I travel the world one country (and train journey) at a time!