This post may contain compensated links. Please read our disclaimer for additional information.
2018 has seen us travel extensively but only in one country – AUSTRALIA! Due to visa restrictions we decided to stay put and explore a little more of our new home. And what a year it has been!
The year in figures
4 states/territories – Queensland/New South Wales/ Northern Territory/Victoria
14 flights
1 train journey
2 road trips – over 5000 kms covered
12 'big things'
3 UNESCO World Heritage Sites
numerous beaches
20 different hotels/Airbnbs/travel lodges/apartments and B&B's
and lots and lots of fun and laughter along the way!
This is a roundup of all our favourite travel experiences of the year (and some not so great ones) which will hopefully provide a little travel inspiration for your travel planning for 2019!
---
FAVOURITE DESTINATION IN AUSTRALIA
---
We visited some absolutely amazing places in 2018 but without doubt for me the highlight was our trip to Uluru. Certainly somewhere that will make you stand in awe but also somewhere that for me was an almost spiritual encounter. Seeing the heart of Australia left me (I believe) with a deeper understanding and respect for those for whom it (and Australia) has been home for thousands of years.
Read more about Uluru and how to get there, what to do and see when you are there and general tips to help you get the best out of a trip to the red centre of Australia.
READ MORE – A guide to visiting Uluru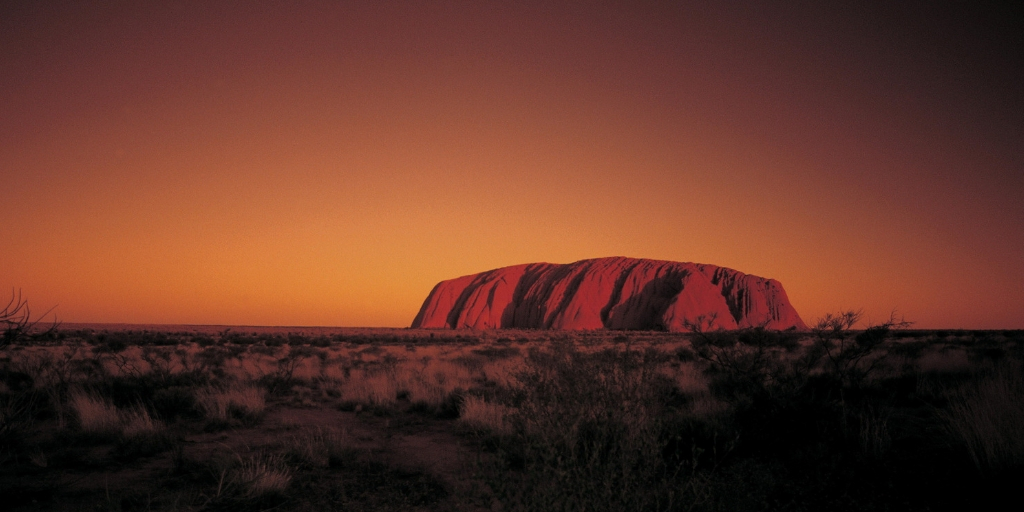 ---
FAVOURITE DRIVE IN AUSTRALIA
---
Driving the Great Ocean Road along the coast of Victoria is high on many bucket list experiences. And this year I did it! I am extremely lucky to have close friends in Melbourne who enjoy driving as we managed to do the drive in a day. We will be back to take the drive at a more leisurely pace but having the opportunity to travel along one of the most famous scenic drives in the world was fantastic.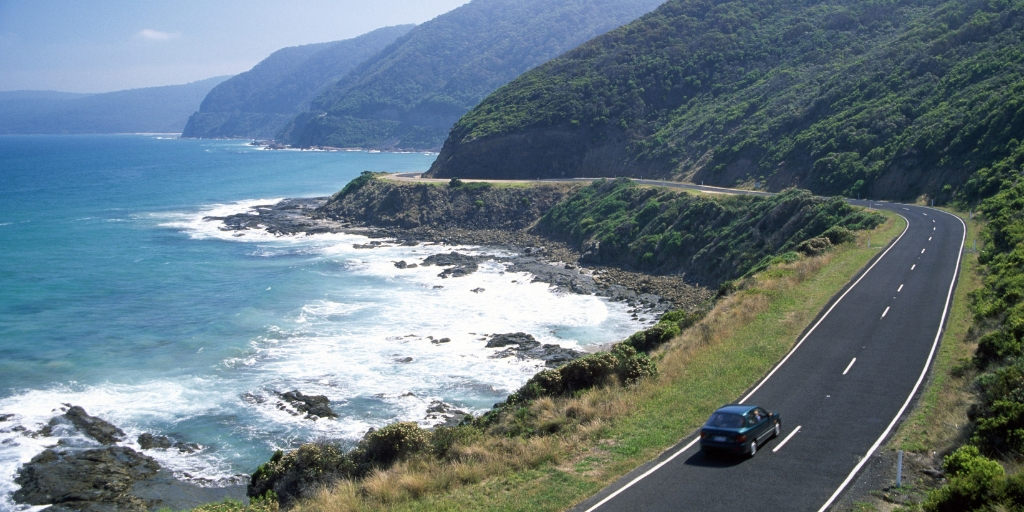 ---
FAVOURITE WILDLIFE EXPERIENCE
---
With so many to choose from this year including seeing kangaroos at Cape Hillsborough, cassowary in the Daintree, crocodiles in Far North Queensland and koala on the Great Ocean Road how is it possible to choose just one as my favourite? Not easy! But for me the standout moment of this year in terms of wildlife encounters has been the trips I have taken with Brisbane Whale Watching to see the annual migration of southern humpback whales along the Queensland coast.
Seeing these beautiful creatures socialising, playing and breaching was an unforgettable experience. I will be booking more trips next year as soon as the whales are back. If you live along the Queensland coast try to get out to see the whales – trust me you won't regret it (or forget it)
READ MORE – A unforgettable day observing humpback whales in the Coral Sea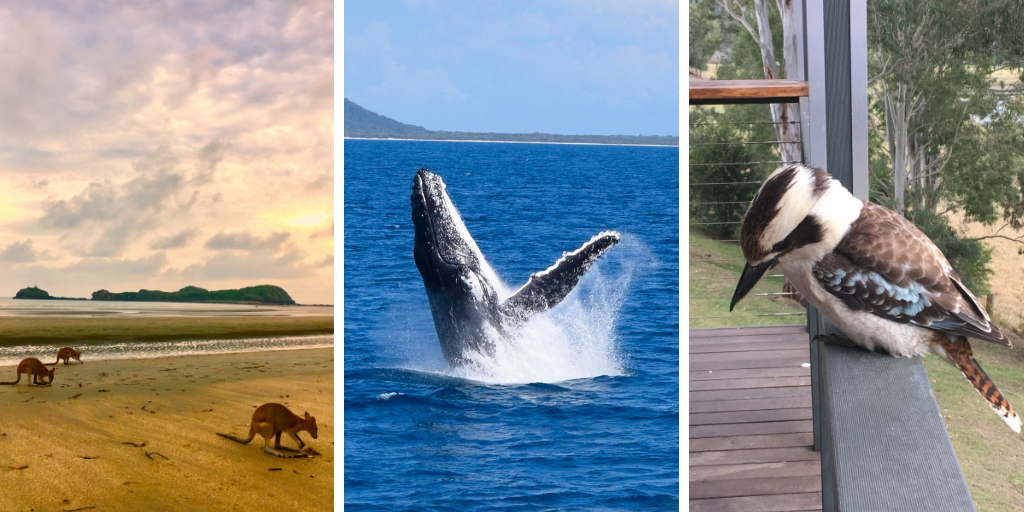 ---
LONGEST ROAD TRIP
---
The best way to experience Australia? On a road trip of course! So where better to head on our first major road trip but from Brisbane to Cairns (and on to the Daintree) We covered over 4000 kms in 19 days and had an amazing trip. We will do it again at a more leisurely pace when time allows but I managed to plan the trip well enough to be able to see the main highlights along the route. More posts coming soon about planning a road trip, our itinerary and some of the fabulous places we visited in Far Northern Queensland!
READ MORE – Cassowaries, crocs and caravans our trip to Far Northern Queensland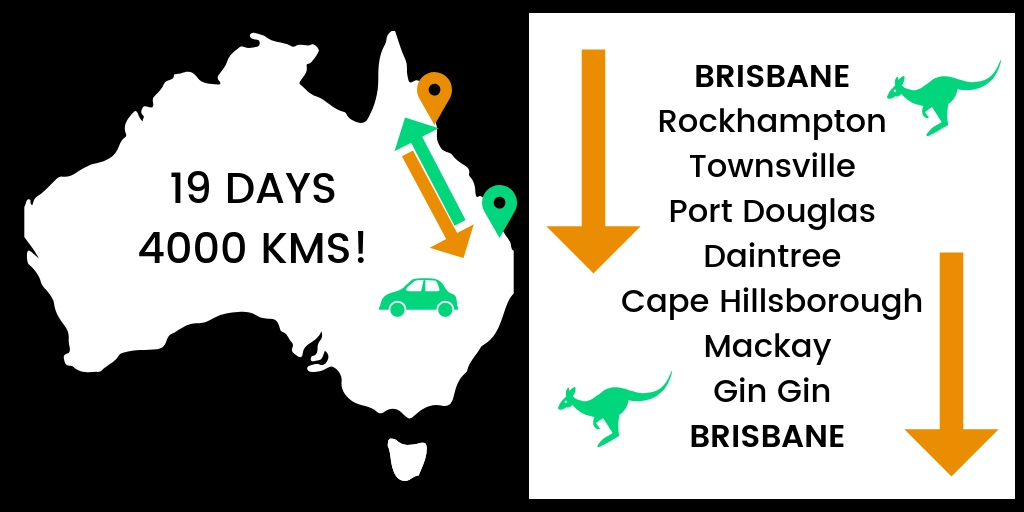 ---
FAVOURITE CITY IN AUSTRALIA
---
I have flown to Melbourne 3 times this year and it is my favourite city in Australia (I am excluding Brisbane as I live there but obviously it would be my top choice if I didn't!)
Cosmopolitan, cultured with great architecture, fab shopping, amazing coffee shops and more it is easy to see why Melbourne is consistently voted the number 1 (or 2) best place to live in the world! If it wasn't for the weather and the fact it is bursting at the seams I would be moving there tomorrow! I have found regular trips does the trick!
---
FAVOURITE ACCOMMODATION/HOTEL
---
We have stayed at so many amazing places this year it is so difficult to choose!
Best for couples
Joint top position for the fabulous Witches Falls Cottages on Tamborine Mountain and Yabbaloumba Retreat in the Sunshine Coast Hinterland!
Both offer excellent luxury accommodation for couples seeking a romantic break – or just some peace and quiet away from the kids! If you are planning a weekend break to either the Gold Coast or Sunshine Coast Hinterlands I would highly recommend booking either of these places! To read more and/or book check out my posts below.
READ MORE – Reviews of – Witches Falls Cottages and Yabbaloumba Retreat
Best city hotel (Brisbane)
We have tried out a number of hotels in central Brisbane including the Pullman and the Stamford Plaza but our favourite remains the Mantra at South Bank. It is an excellent mid-range hotel with excellent facilities, in a great location and probably our favourite hotel breakfast anywhere! Book early – it gets busy!
READ MORE – A review of the Mantra Hotel in Brisbane
Best accommodation – Gold Coast
We have recently returned from our Christmas holiday to the Gold Coast. I really lucked out this year when I book a beach front apartment at the Sanctuary Beach Resort. It was amazing and if you look on the picture the ground floor apartment virtually on the beach was ours! (Yes that entire floor!) If you are looking for accommodation literally a 2 second stroll to the beach then this is the place for you (just ask for apartment 15!!)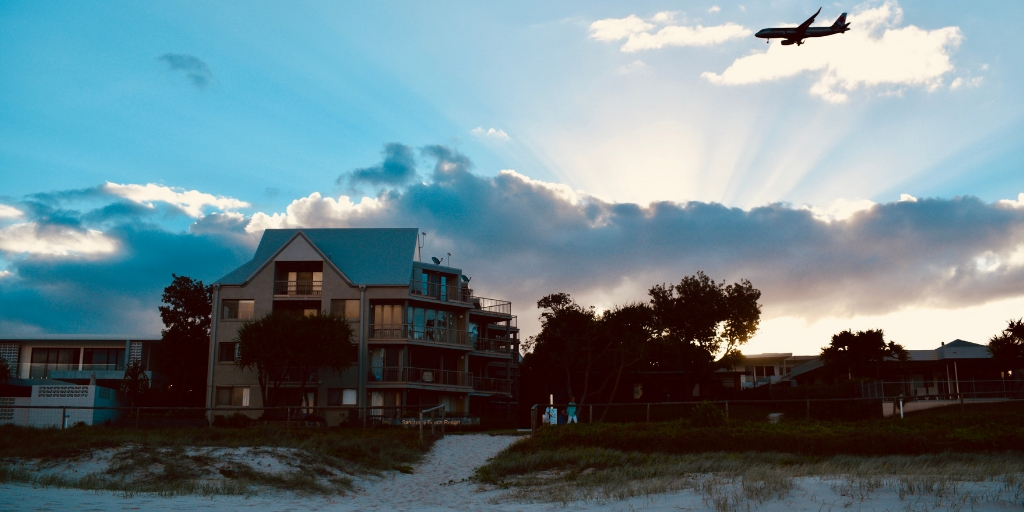 ---
WORST ACCOMMODATION!!!
---
We paid a small fortune for the privilege of sleeping in a small cabin in the middle of the Daintree. The place had excellent reviews and as it was a once in a lifetime experience I went ahead and booked. Little did I know that we were arriving a day after the managers had left and been temporarily replaced with a geriatric biker couple (one of whom was deaf) who hadn't a clue what they were doing.
It was really a comedy of errors for the 3 days we were there – the food was appalling, they had no idea what to recommend to see and do in the area, ran out of drinks in the bar (then tried to charge us for drinks we had brought with us) and then at check-out lost our paperwork….
Hopefully the new managers are now in place…I really should have asked for a refund…
The one highlight – the resident cassowary who visited the kitchen every morning!
---
FAVOURITE TRAIN JOURNEY
---
As train travel addicts we are suffering withdrawal symptoms here in Australia. There are some truly spectacular train journeys to take across the continent but they all come with equally spectacular price tags!! So we were more than happy to try out Kuranda's scenic train journey when we were in Cairns earlier in the year.
You can make the trip to Kuranda by train both ways or take the skyrail rainforest cableway one way and the train the other. This is exactly the way we organised our day and apart from giving ourselves far too much time in Kuranda itself we had a really enjoyable outing!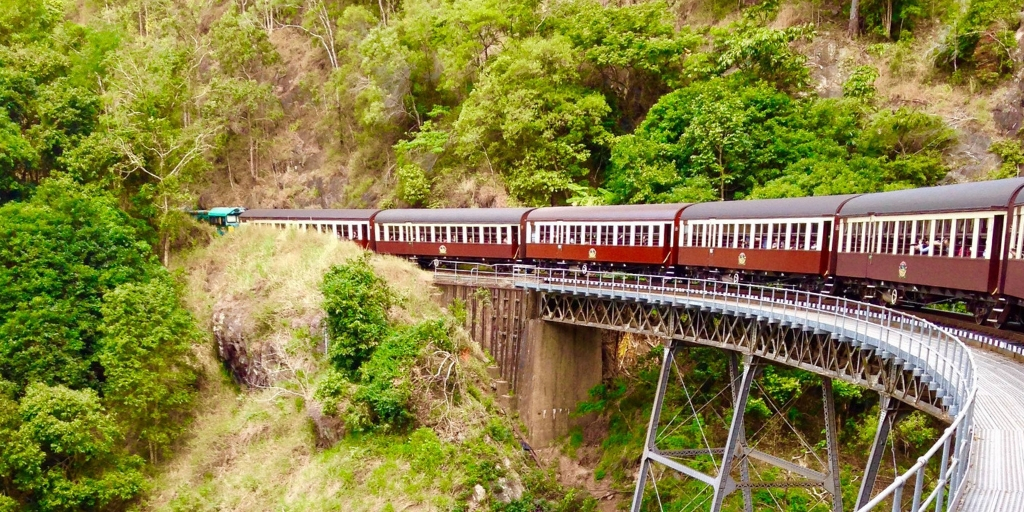 ---
FAVOURITE AUSTRALIAN UNESCO WORLD HERITAGE SITE
---
We visited a number of UNESCO World Heritage Sites in 2018 including Uluru Kata-Tjuta/ Sydney Opera House (again), and the Daintree.
I am going to choose the Daintree for this award even though our accommodation was pants! The Daintree is quite amazing – it is the world's oldest tropical rainforest and an estimated 180 million years old. In it you can find some of the most incredible wildlife including the endangered cassowary and huge saltwater crocodiles. You don't need to watch Jurassic Park you can actually live it in the Daintree!
READ MORE – A guide to all 19 UNESCO World Heritage Sites in Australia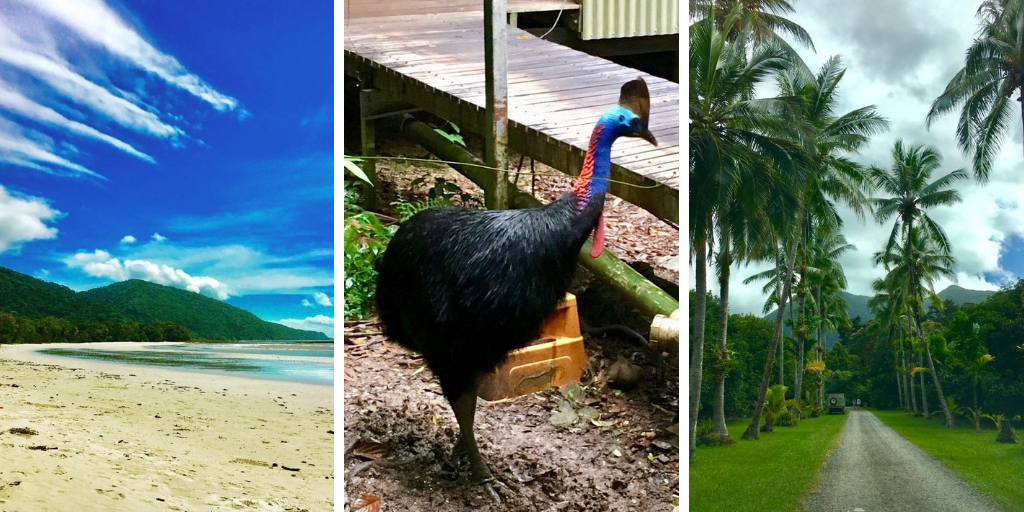 ---
FAVOURITE HOLIDAY DESTINATION VISITED IN QUEENSLAND
---
We had a fantastic time in Tropical North Queensland and stayed in the Daintree, Cairns and Port Douglas. Although a lot of people told us to avoid Port Douglas and stay in Palm Cove closer to Cairns I am really pleased we didn't! Apart from the 2 days of very unseasonal rain when we first arrived we found it perfect! If a trip to Tropical North Queensland is part of your holiday plans for 2019 definitely check out Port Douglas!
READ MORE – The ultimate guide to Port Douglas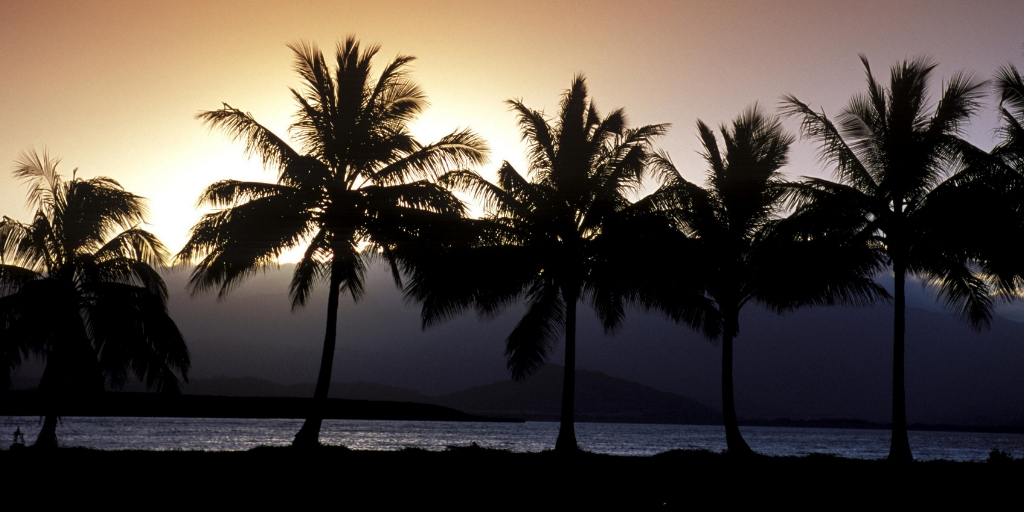 ---
FAVOURITE 'BIG THING'
---
I love Australia's obsession with big things! So much so that I now go out of my way to find them! I have seen loads this year including the big marlin, the big cane toad, the big orange, the big Ned Kelly, the big cassowary, the big crab, the big snake, the big Captain Cook and the big pumpkin!
My favourite though goes to the big easel! Mainly because it is it so random!!! The easel with its larger than life depiction of Van Gogh's "Sunflowers" can be found in Emerald! (the orange in Gayndah and the marlin in Cairns)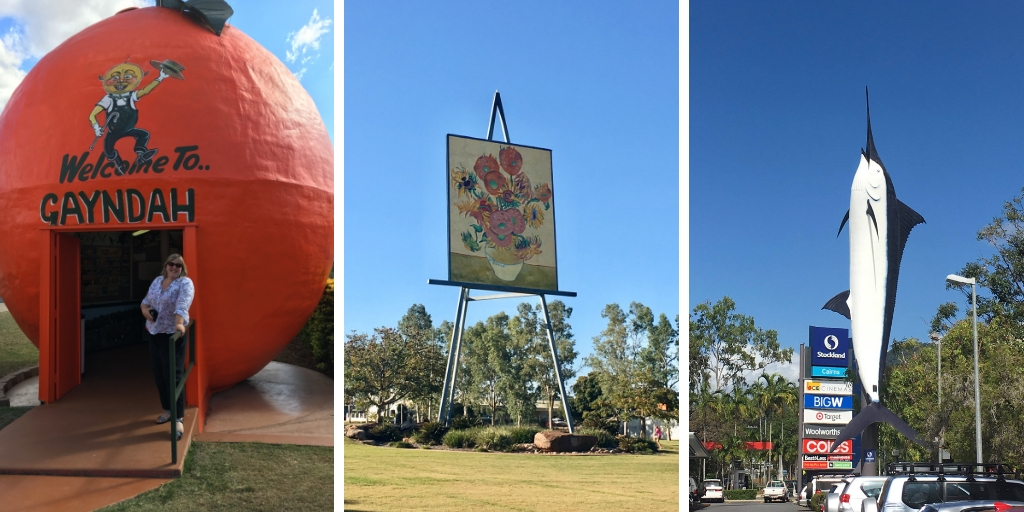 ---
FAVOURITE BEACH (IN SOUTH-EAST QUEENSLAND)
---
Last year this was easy as we had been to Whitehaven Beach on the Whitsundays which pretty much blew every beach I had ever been to out of the water. This year we have mainly stuck to beaches on the Gold Coast and Sunshine Coast.
While the beaches in far Northern Queensland such as Cape Tribulation and Four Mile Beach at Port Douglas are stunning they do come with a health warning – stingers and crocs – so for me that knocks them off this list!
So Gold Coast or Sunshine Coast….dilemmas!
I will have to nominate Noosa Main Beach – it is sheltered, has small waves and is in Noosa so gets my vote! (Though I can hear many Australians sucking air in through their teeth at this point) but Burleigh Heads and (yes I know) Surfer's Paradise come in a close second! If you don't agree then tell me your favourites in the comment section!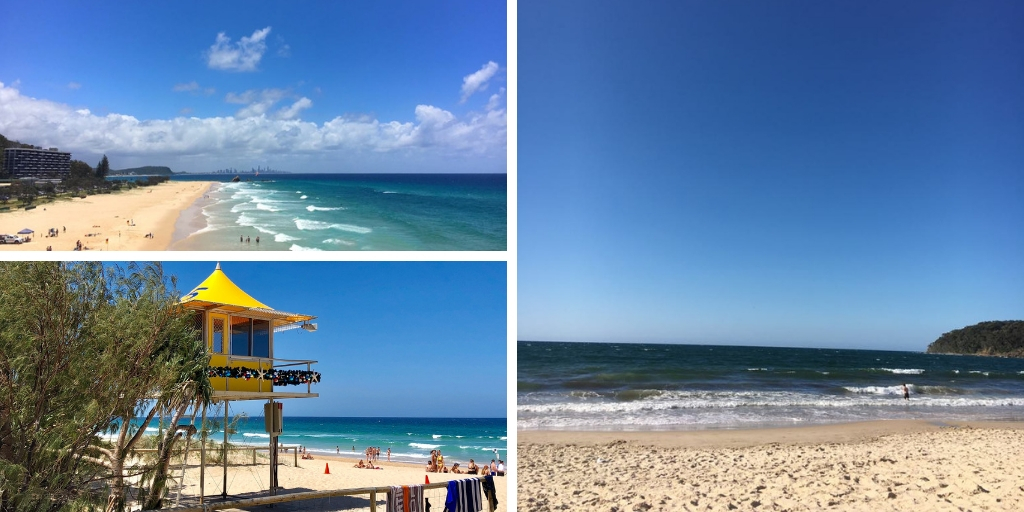 ---
FAVOURITE WEEKEND DESTINATION (FROM BRISBANE)
---
There are so many wonderful weekend destinations to choose from when you live in Brisbane including Montville and Maleny in the Sunshine Coast Hinterland! My favourite however is Tamborine Mountain in the Gold Coast Hinterland. Lots to do and see, wonderful places to eat and fab accommodation options. Gets my vote Bruce!
READ MORE – A guide to visiting Tamborine Mountain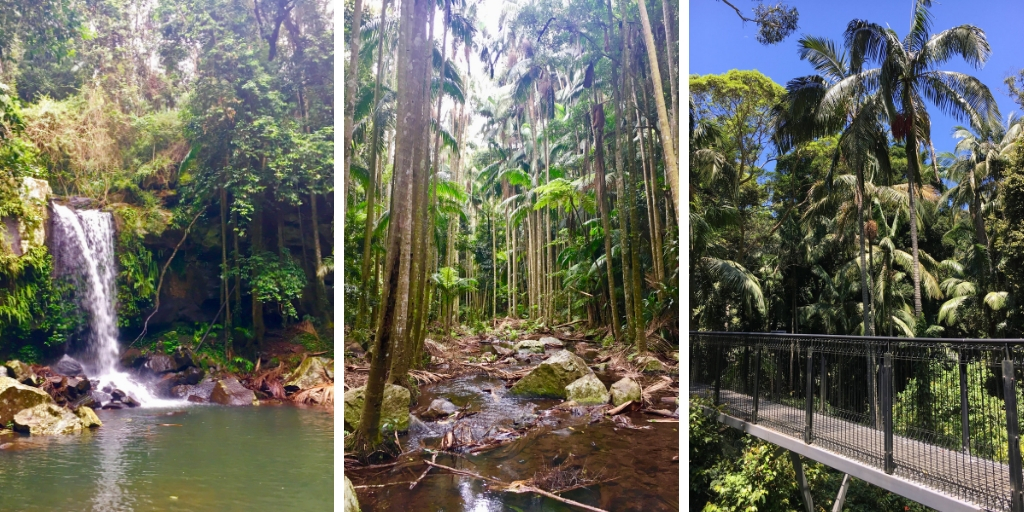 ---
TRACY'S TRAVELS IN TIME – BEST TRAVEL EXPERIENCES IN AUSTRALIA
---
YOU MAY ENJOY THESE POSTS TOO!
---
GAIN EXCLUSIVE ACCESS TO MY RESOURCE LIBRARY
---

---
---
Over the last 50 years I have lived and worked in 7 countries on 4 continents and travelled to many more. I enjoy exploring and learning about new places and meeting people on my travels. History, reading, photography, nature and wildlife are my interests and I am ALWAYS researching and planning my next trip (preferably by train)
With a lifetime of travel experience, and a network of friends all over the world, I share genuine insider guides, recommended best book lists and train journey inspiration to help YOU travel authentically to some of the most beautiful places on earth.
Come and join me as I travel the world one country (and train journey) at a time!
This post may contain compensated links. Please read our disclaimer for additional information.