This post may contain compensated links. Please read our disclaimer for additional information.
It has been 11 months since we moved here from the UK and therefore time for my monthly round-up about expat life in Australia.
As it has been cooling slightly in SE Queensland with the arrival of winter we decided it was time to chase the warmth! (Overnight temperatures dipped to a cool 11 degrees before we left ……)
I even had to buy a fluffy dressing gown as I had not brought one with me from the UK! Blankets were a must and for once I was quite pleased we were renting an apartment as houses seem so much colder.
But before escaping to warmer climes I once again took a trip to Melbourne. I really like Melbourne – it is cosmopolitan, has a great food scene and is the closest looks wise to a European city you will find in Australia. But bloody hell it is cold in winter compared to Queensland!!
The difference from the view out of the plane window between the Gold Coast and Melbourne summed it up! I think I arrived during a particularly cool and wet period and it hasn't dampened my desire to spend more time there (even though this time I spent most of it ill being looked after by my friend Trish)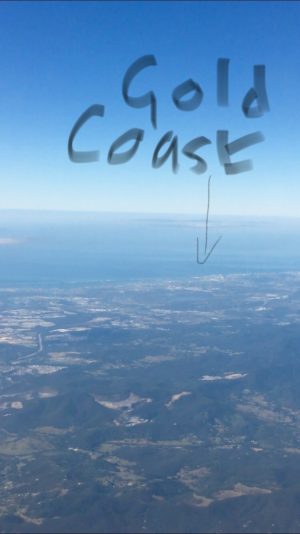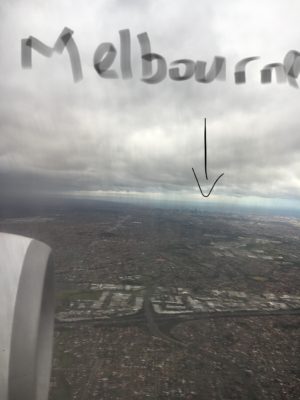 ---
ROAD TRIPPING!!
---
This month we have been taking a little driving holiday from Brisbane to Far Northern Queensland – a trip that so far has seen us cover over 2200 kms and we are still in Cairns!
We have visited Port Douglas, Mossman Gorge, the Daintree and Cape Tribulation so far.
Far Northern Queensland is beautiful and a fantastic place to relax and enjoy the warm weather and beautiful beaches (though don't swim in them – crocs and stingers are a reality of life up here)
I will be writing in more detail about each of the places we have visited as well as the numerous BIG THINGS we have come across on our trip!
So what have been the highlights??
---
SUNSETS
---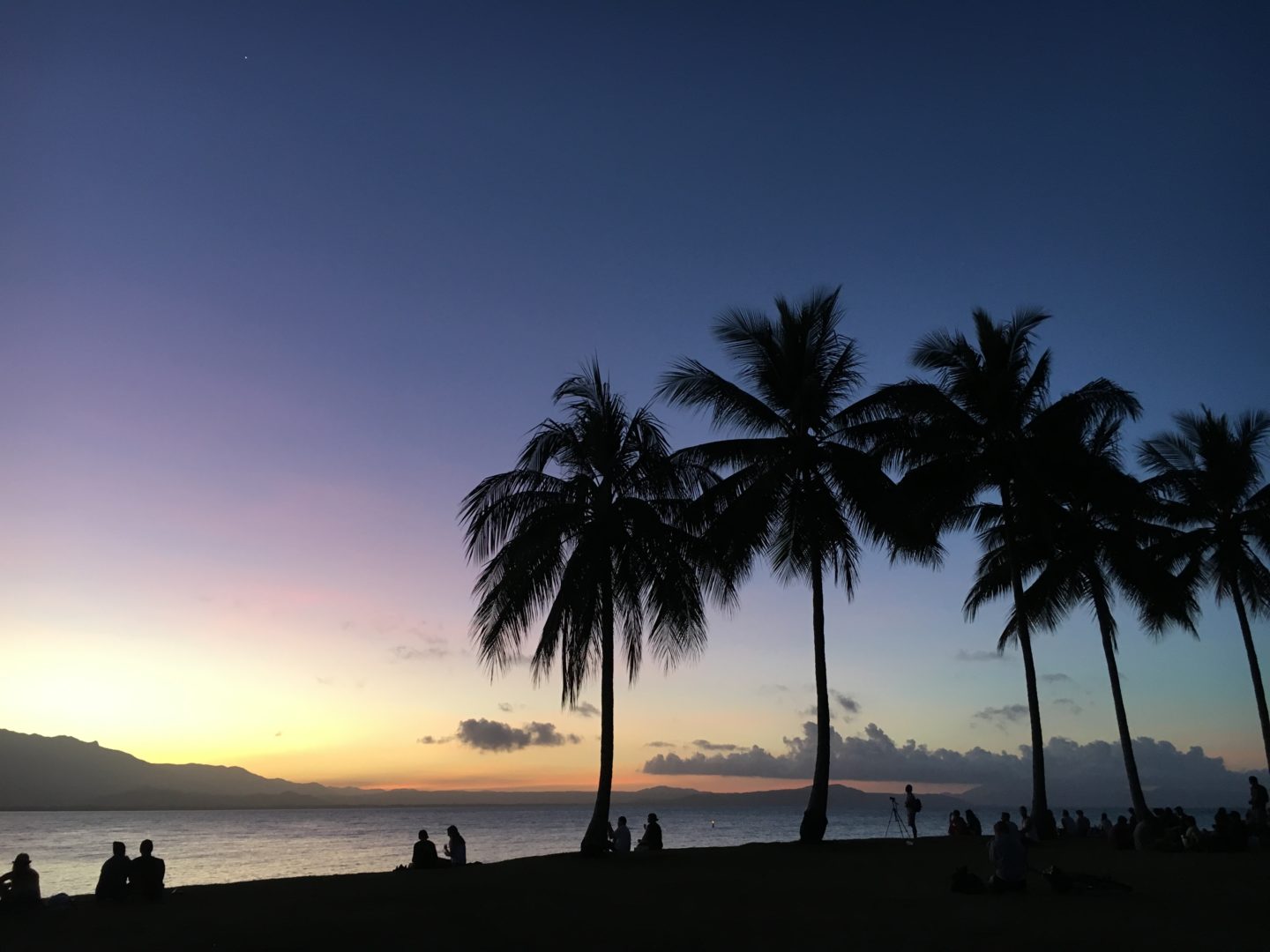 Beautiful Port Douglas is the perfect setting for sunset with its amazing palm tree lined beaches. Head to Rex Smeal Park for great photo opportunities!
---
BEACHES
---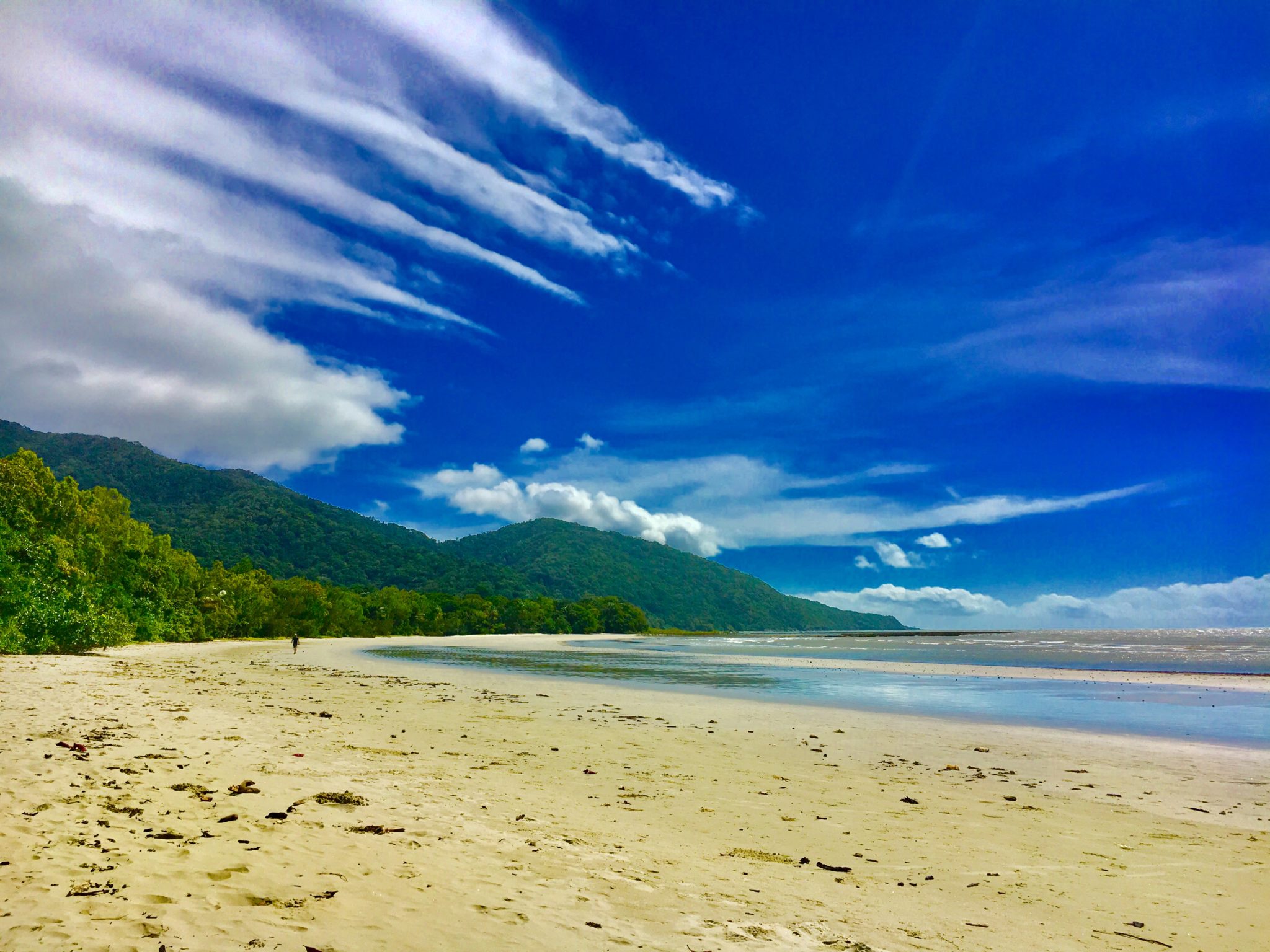 Head up to Cape Tribulation for rainforest and beach views! Some of the plants you can find in the rainforest today were around during the time of the dinosaurs. It isn't hard to imagine a velociraptor or t-rex emerging from the dense rainforest!
---
MOSSMAN GORGE
---
Mossman Gorge – we booked onto a walking tour of the rainforest with an indigenous guide. This gives you exclusive access to Kuku Yulanji land and was so interesting and educational. From the traditional smoking ceremony, the demonstration of traditions such as making paint and soap to the bush tea damper and more this was an excellent tour and I would highly recommend it if you are visiting the gorge.
---
EXOTIC FRUITS
---
Discovering fruits I had never even heard of! We spent an afternoon visiting an exotic fruit farm near Cape Tribulation which was certainly interesting and educational! Some of the fruits were delicious ……. some were NOT!
Fruits we tried included soursop, black sapote, breadfruit, canistel, mamey sapote, and rose apple! Have you heard of any of those?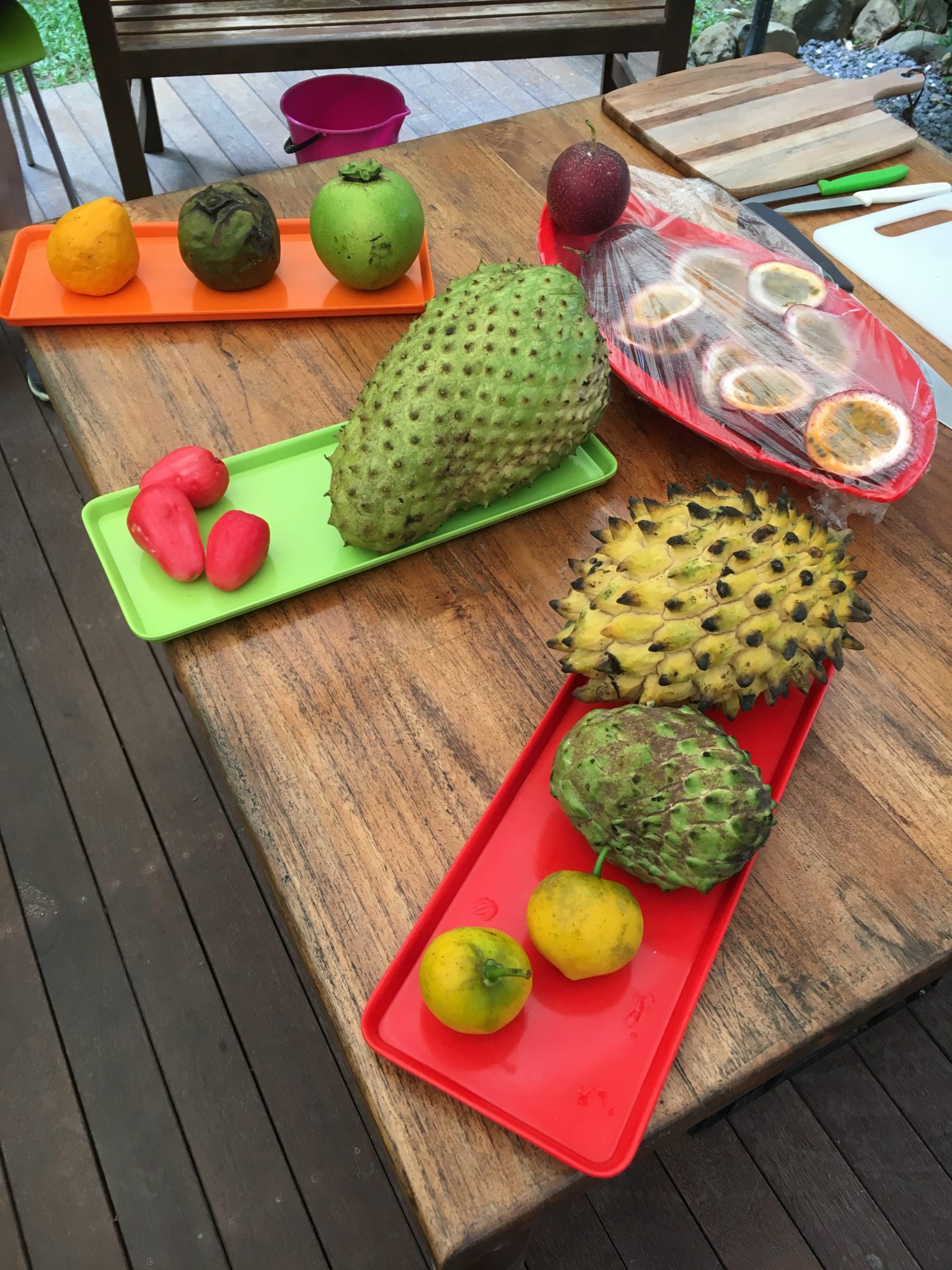 ---
BIG THINGS
---
I have added to my haul of BIG THINGS during this trip with the BIG marlin, BIG Captain Cook and BIG cassowary!
---
RAINFOREST STAY
---
We spent 3 nights staying in a cabin in the Daintree. It was certainly an experience we won't forget for all sorts of reasons (review of the accommodation coming soon) with the highlight being the resident cassowary Fred appearing at breakfast!
We were only visited by a few bugs and small spiders inside the cabin (phew) but did enjoy the sounds of the wildlife even if it was a little scary in the middle of the night!!
---
A TRIP ON THE KURANDA SCENIC RAILWAY
---
I make no secret of my love of train travel so we couldn't resist a trip on the Kuransa Scenic Railway. We took the cable car to Kuranda (a trip takes about 1 1/2 hours with stops at 2 stations along the way to change gondolas) and returned via train. Write-up of our day coming soon!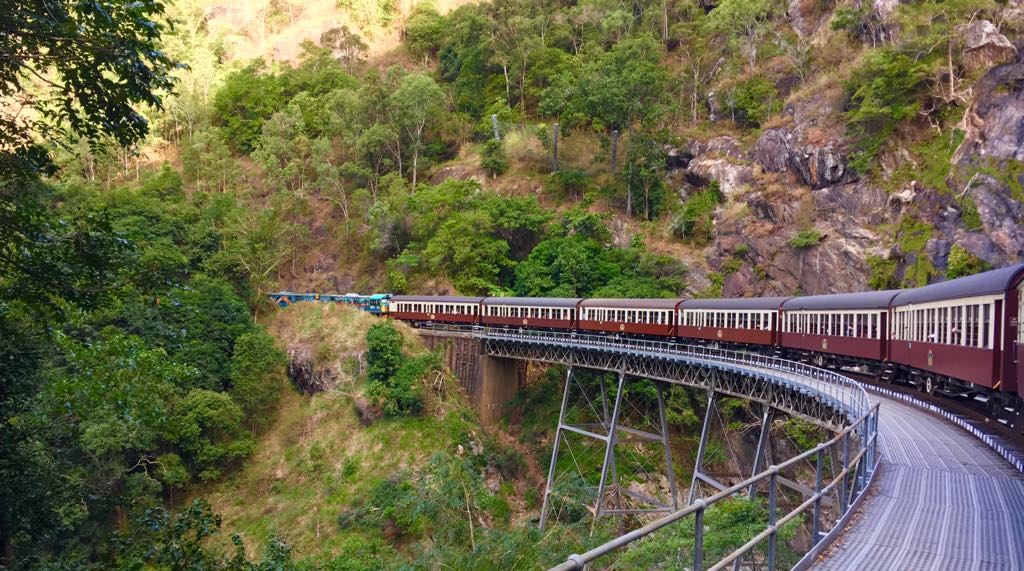 ---
AUSTRALIAN WILDLIFE
---
Cassowary, kangaroo, bats, and crocodiles are just some of the Australian wildlife we encountered on the trip!
All those beautiful beaches and stinger and crocodile warnings at all of them. A very very good reason for me to go nowhere near the water!!!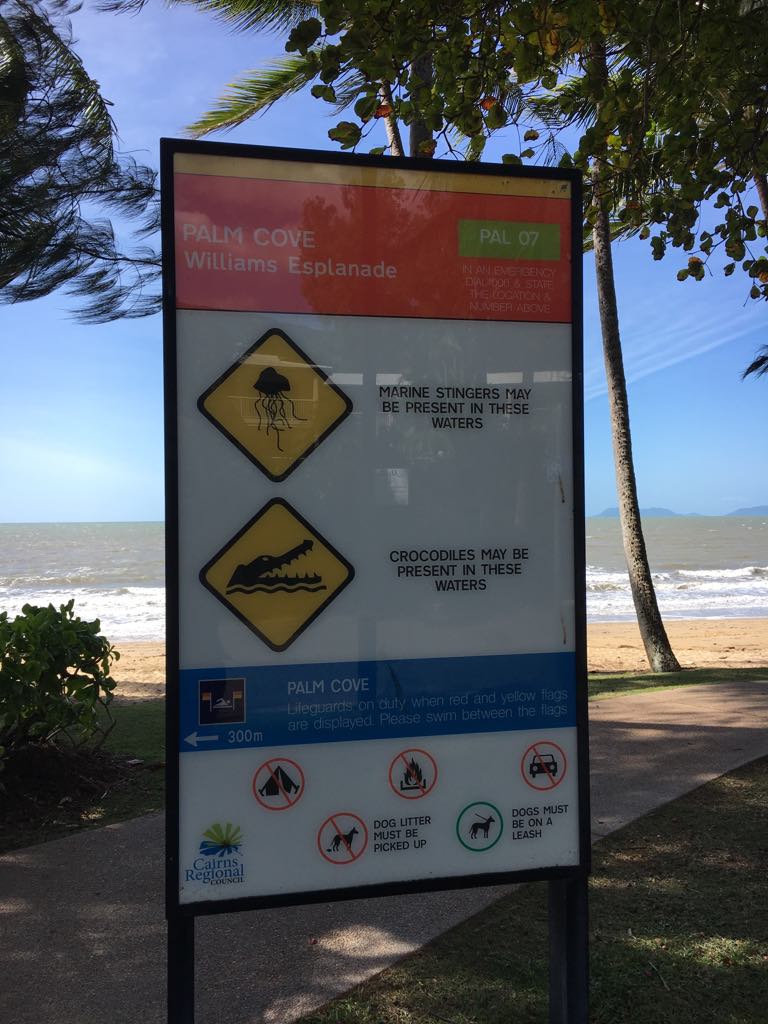 ---
THINGS I LEARNT THIS MONTH
---
And onto my most popular section of my expat life in Australia posts – what if anything have I learnt this month!
The grey nomad is well and truly alive and kicking in Queensland. We have been quite astounded by the number of caravans and motorhomes we have seen on our trip. Caravans are definitely the "home from home" choice for most nomads. Some of the rigs we have seen have been quite spectacular. It really is an option at retirement (of before if you are lucky) to just sell up and bugger off around Australia with your van!
When I think of foreign species of animals causing havoc in Australia I think of the cane toad or rabbits. In NE Queensland they are also after electric ants! A rather tiny ant with a hefty sting from S America is on the hit list.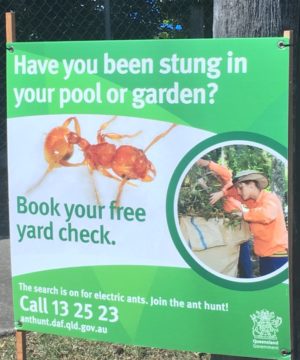 There is a bird in the rainforest called the Cat Bird. If you hear its call you will know why it is called that as it sounds exactly like a cat!
Muriel's Wedding has gone straight into my top 5 favourite films of all time! If you haven't yet seen it (I hadn't!!) do check it out! It is included in my top 10 Australian movies to watch before you visit!
While talking of films I have also watched Kenny for the first time this month – loved it! If you haven't seen that one either I would recommend it!
That's all folks for month 11 update of our expat life in Australia. Next month marks our first year in Australia and I am putting together a video of the highlights.
I also have some great videos on my You Tube channel to check out too!
Tracy
---
PIN FOR LATER – EXPAT LIFE IN AUSTRALIA
---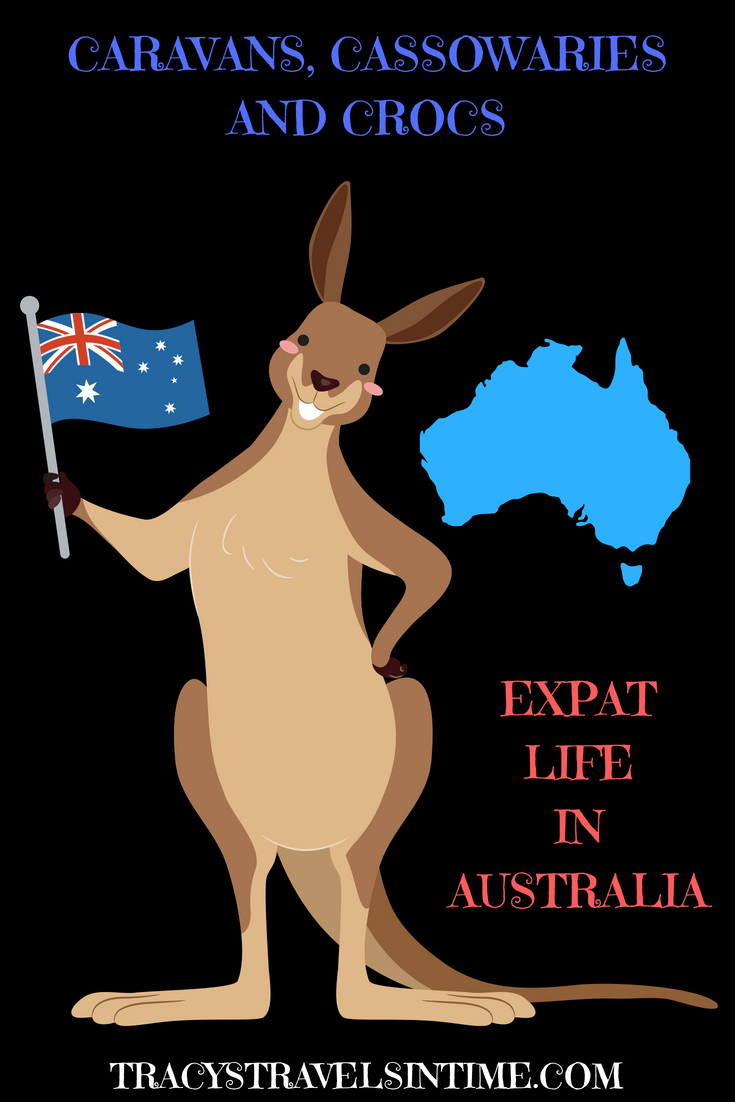 Check out these expat posts too!
---
JOIN MY NEW

FACEBOOK GROUP

FOR ALL MY EXPAT TIPS AND  INFO ABOUT  LIFE IN AUSTRALIA 
---
---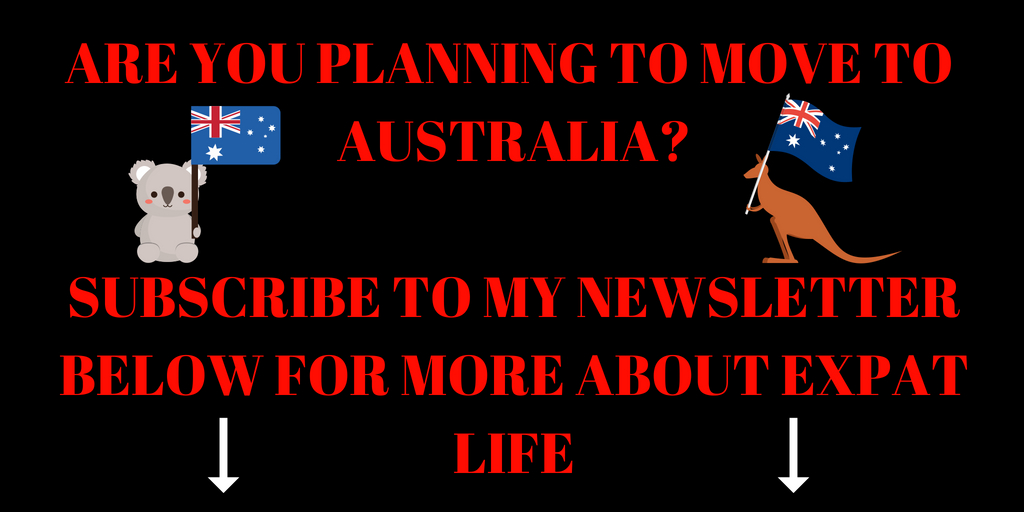 ---
This post may contain compensated links. Please read our disclaimer for additional information.