This post may contain compensated links. Please read our disclaimer for additional information.
I had a list of what we thought might be essential items when packing for South East Asia but I also found some fantastic products which I had not heard when I began researching our trip. Some of these are really useful and I added them to my packing list! I have used all of these items our on our recent SE Asia trip so they do come tried and tested!
After travelling this then is my list of 16 travel accessories for South East Asia.
---
Pacsafe Metrosafe LS450 Anti-Theft 25L Backpack, Black
---
I absolutely love pacsafe products – whilst they are not the cheapest backpacks around the anti-theft features make them an essential for us. I purchased a red one for myself and a black one for my husband. The 25L meant we had to be economical with our packing but the size meant that these are good for day use too. It was a definite essential and a highly recommended travel accessories for South East Asia.
Features include
Sturdy, roomy backpack with anti-theft technologies and organisational options; ideal for adventures abroad or your daily commute

Lightweight, hidden eXomesh Slashguard stainless steel wire mesh embedded into fabric helps protect against slash-and-run theft

Lockabout Security Clip and smart zipper security provide multiple layers of protection and lockdown points for zippers to help prevent pickpockets

RFIDsafe blocking material built into a pocket in the main compartment helps protect IDs and credit cards from hacker scanning
 Check out the ultimate guide to the best rucksacks for travelling and using as cabin baggage
---
Pacsafe Slingsafe LX50 Anti-Theft Mini Cross-Body Bag
---
Another PacSafe product that proved to be an excellent buy. This bag (I bought it in red) never left my side during the entire trip – big enough for my phone, credit cards and cash I did not feel vulnerable at all even in the most crowded of places. After a particularly nasty experience in Paris from a gang of pickpockets I can only say that these bags are now an essential part of my kit. Sad really but necessary.
Features include
Simple and unstructured crossbody bag with anti-theft features; perfect for keeping belongings close and safe on city or travel inspired occasions

Lightweight, hidden exomesh slashguard stainless steel wire mesh embedded into fabric helps protect against slash-and-run theft

RFIDsafe blocking material built into a pocket helps protect ID's and credit cards from hacker scanning

On the end of the wire-embedded Dyneema strap the bag can be secured to a fixture with the dual release buckle to help prevent cut-and-run theft
---
Pacsafe Coversafe S25 Anti-Theft Secret Bra Pouch
---
I bought this for my daughter who was travelling around SE Asia at the same time as us but staying in hostels. I thought this would be useful for keeping her essentials a little closer to her chest lol!
Features include:
Discreet, hidden, and soft-to-the-touch bra pouch made from lingerie fabric; fits credit cards and cash

Adjustable elastic strap clips easily to front or side of bra

Breathable material lies comfortably on the body underneath clothing; machine washable

Measures 4 x 3.5 inches weighs .5 ounce

.5″x3.5″x4.5″
---
Credit Card Holder Wallet
---
Another essential for me was this credit card holder – I am still using it and find it invaluable for storing all my cards.
Features include:
Material: Genuine leather, Zip Closure

Measures: 4.53 " x 2.95″ x 1.01″.

Structure: 1 Zipper Pockets, 11 Accordion Folds inside, and 1 ID window,1 Card Slots Outside. Big Capacity Meets Your Daily Use, Such As Credit Cards,Debit Cards,ID Cards,Cashs,Coins and so on.

RFID Blocking: The Card Wallet Protects Your Credit Cards,Debit Cards,ID Cards from Stealing Your Information.
---
 Instant Cooling Towel
---

I could not have survived without my cooling towel – though not as reliable at the 42 degrees plus temperatures of Dubai we found these invaluable in Thailand, Malaysia and Singapore. Wet the towel, ring out the excess water then snap the towel for instant cooling. In most of my photographs I can be found with one of these round my neck. They are so good I bought 2 each for myself and my husband and one for my daughter to take on her travels.
Features include:
Lightweight and Durable; Instant Cooling and Refreshing; Size of 30 x 100 cm

98%UV Blocking Rate, 50+UV Protection Index

Chemical Free, Physical Cooling Effect;

Normal Temperature Water And Even Sweat Can Generate Cooling Properties By Snapping The Towel;

Works Great And Portable For Sports And Outdoor Activities And Working In Hot Environment. Easy To Carry.
---
  Scarf Camera Strap
---
Another essential buy – carrying my camera around my neck was made a zillion times more comfortable with this fantastic scarf camera strap. Stylish, comfortable and one of my favourite new camera accessories.
---
Kindle Voyage E-reader
---
I love my Kindle and would not travel without it. My husband has resisted having one until recently but has realised the ease of being able to download books in seconds and store an entire library on this little reader has him converted.
Features include:
High-resolution 300 ppi display – reads even more like the printed page

PagePress enables you to turn the page without lifting a finger

New adaptive front light – provides ideal brightness, day or night

Battery lasts weeks, not hours

With Kindle Unlimited, read as much as you want, choosing from over 800,000 titles and thousands of audiobooks. Try Kindle Unlimited free for 30 days.

Unlike tablets, no screen glare, even in bright sunlight
---
Mini Portable Outdoor Fan 
---

Another one of my must-haves. I find this little fan excellent -it has a rechargeable battery and the fan folds donw for easy storage. Another essential of like me you suffer with the heat.
---
Waterproof Bags 
---
We find these very useful – at the beach, on boat trips etc protect your valuables and keep them dry! I have had them for a while now and always pop my phone in one when heading to the beach!
---
 Waterproof Laptop Case 
---
We have recently purchased a Macbook Air and they are not cheap so to make sure it was as protected as possible we purchased the Aqua Quest Storm Laptop Case to keep it in! Waterproof and padded I wasn't taking any chances! A good buy!
---
 Power Bank 
---

I could not travel without my power bank – being able to charge my phone and ipad etc when they run out of battery is vital. I use my iphone to take a lot of videos and photographs so can relax knowing I can recharge it easily.
---
Hand gel sanitizer
---
I don't go anywhere without a bottle of hand gel sanitizer in my bag and in SE Asia it was invaluable!
---
First Aid Kit
---
I am married to  nurse so I always leave the first aid kit to him but he always makes sure we have the essentials before we travel!
---
How to shit around the world
---

There's no way, and probably no good reason, to be subtle about it — diarrhea, parasites, and other gastrointestinal unpleasantries can be part of the price travelers pay for trying to see the world. Fortunately, this frank, witty guide lets world-explorers fight back against their invisible assailants. A noted traveler and writer, Dr. Wilson-Howarth explores such issues as sanitizing unhealthy water, safely consuming exotic foods, avoiding dehydration, keeping good hygiene on the road, and immunization. A special section details the dreaded creatures — spiders, leeches, worms — that can put any tour into a tailspin. With special tips for children and elderly travelers, as well as ways to dodge ailments such as malaria, typhoid, and hepatitis, How to Shit Around the World is the perfect, if not the most polite, traveling companion.
I bought this book for my daughter who wasn't very enthusiastic to start with when she read the title BUT….she ended up taking it with her on her travels and found it really useful!! Highly recommended!
---
Compact towels
---
Compact towels – quick dry and easy to use! An absolute essential!
Another item my daughter took which she found really useful when she went on hikes while on her trip.
---
My favourite t-shirt!
---
---
---
---
So those are my top 16 travel accessories for South-East Asia! What have I missed out from my list that you consider must-take travel kit? Let me know in the comments! I am always on the look-out for new ideas!
PIN FOR LATER!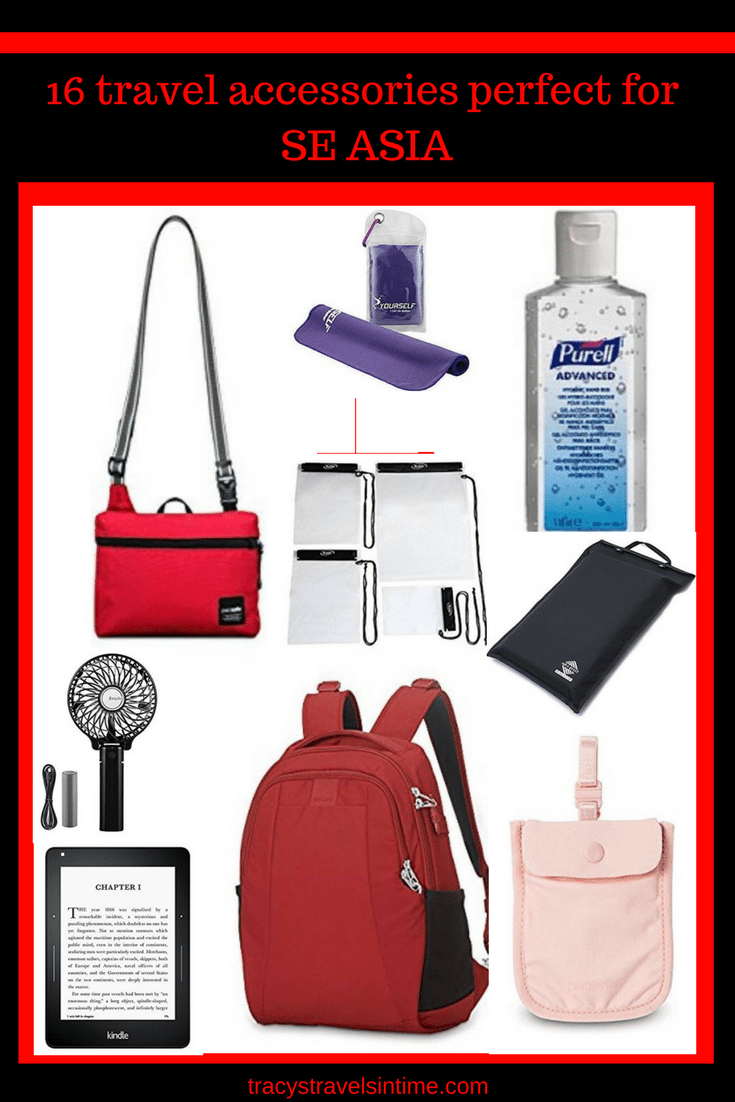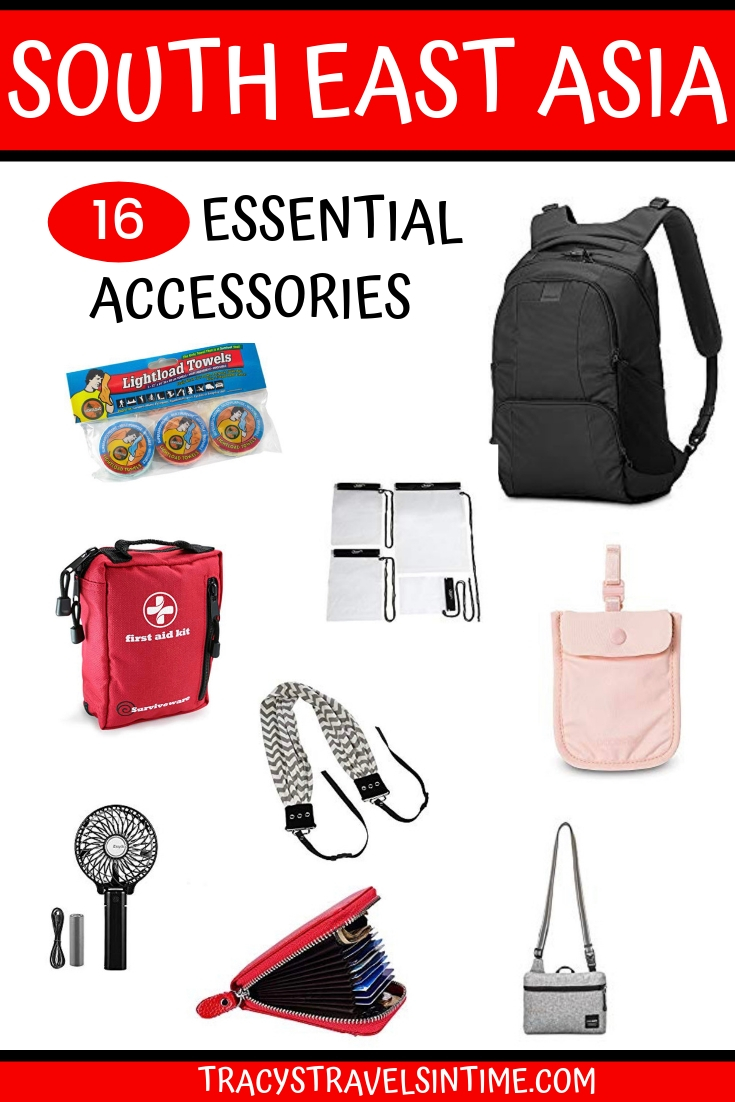 YOU MAY ENJOY THESE POSTS TOO!
CLICK FOR EXCLUSIVE ACCESS TO MY RESOURCE LIBRARY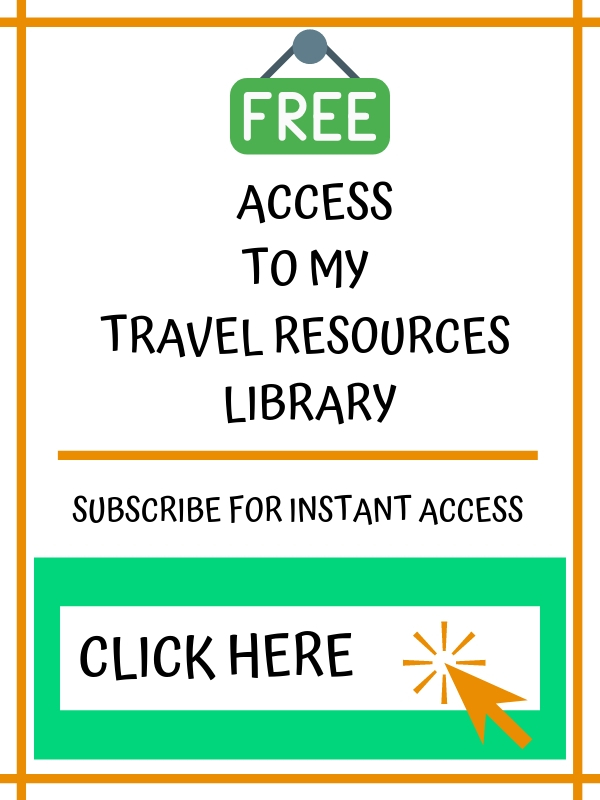 ---
---
Tracy has lived and worked in 7 countries on 4 continents and travelled to over 50 more. A qualified school teacher with an interest in history, reading, photography, nature and wildlife she is always planning her next trip (preferably by train)
With a lifetime of travel experience, and a network of friends all over the world, she is also able to share genuine insider guides, recommended best book lists and train journey inspiration to help you travel authentically to some of the most beautiful places on earth.
Come and join me as I travel the world one country (and train journey) at a time!
This post may contain compensated links. Please read our disclaimer for additional information.