This post may contain compensated links. Please read our disclaimer for additional information. As an Amazon Associate, I earn from qualifying purchases.
A few months ago I made no secret of my fantastic experience of 3 days of spa heaven at Hoar Cross Hall in Staffordshire. In fact you can read all about it in my post – A luxury spa break at Hoar Cross Hall. So I was delighted to be able to try out their new twilight spa experience which is available every Thursday night.
As well as being a travel blogger I also work full time as a teacher for my day job – so sometimes the need for a little pampering and de-stressing is really important especially when it is a long time until the next holiday! So all my teaching friends read on – and I guarantee that during the long run up to Christmas you will want to book at least one twilight spa experience. Headteachers treat your staff (or yourself) – and teachers what a way to chill out with your team of teaching assistants!
We were really looking forward to the experience – a first time visiting a spa for my husband (a hardworking nurse). We were not disappointed and had a fantastic evening.
Pamper evening
On arrival (from 6:00 pm) you will receive a robe and fluffy towels. After a quick change in the changing rooms (stocked with pampering spa products) head upstairs to the restaurant for a tasty antipasti platter and drink (prosecco for me and a non-alcoholic beverage for my husband). It was delicious!
For the evening you are given access to everything in the spa – this includes hydrotherapy pools, jacuzzis, the fantastic Nordic Heat and Ice Suite, relaxation area and Sanctum. Perfect!
Try out the nordic heat and ice centre – follow the steps on the sign and enjoy! I must admit it will rejuvenate you (and probably make you scream a little when you try the ice and cold douche! It certainly did make me take a sharp intake of breath!
And don't miss out the aroma room. This room really will help relax any aching muscles!
The Sanctum is a beautiful area to chill out in and one of my favourite places to just zone out from the world and relax! I particularly love the pods! After a swim and some time in the jacuzzi we couldn't resist a complete relax in the pods!
As well as access to all these amenities included in the evening is use of the gym as well as the regular exercise and relaxation classes.
The twilight spa package was fantastic and just what we needed – for those of us with busy lives what a prefect way to fit some quality relaxation into our schedules!
Need to know
The twilight spa experience costs from only £39 and you have use of the facilities between 6 pm and 9.30 pm. Check out Hoar Cross Hall's website for more information and schedule a twilight spa experience in your life!
Treat yourself and relax in the beautiful setting of Hoar Cross Hall!
Pin for later – A twilight spa experience at HOAR CROSS HALL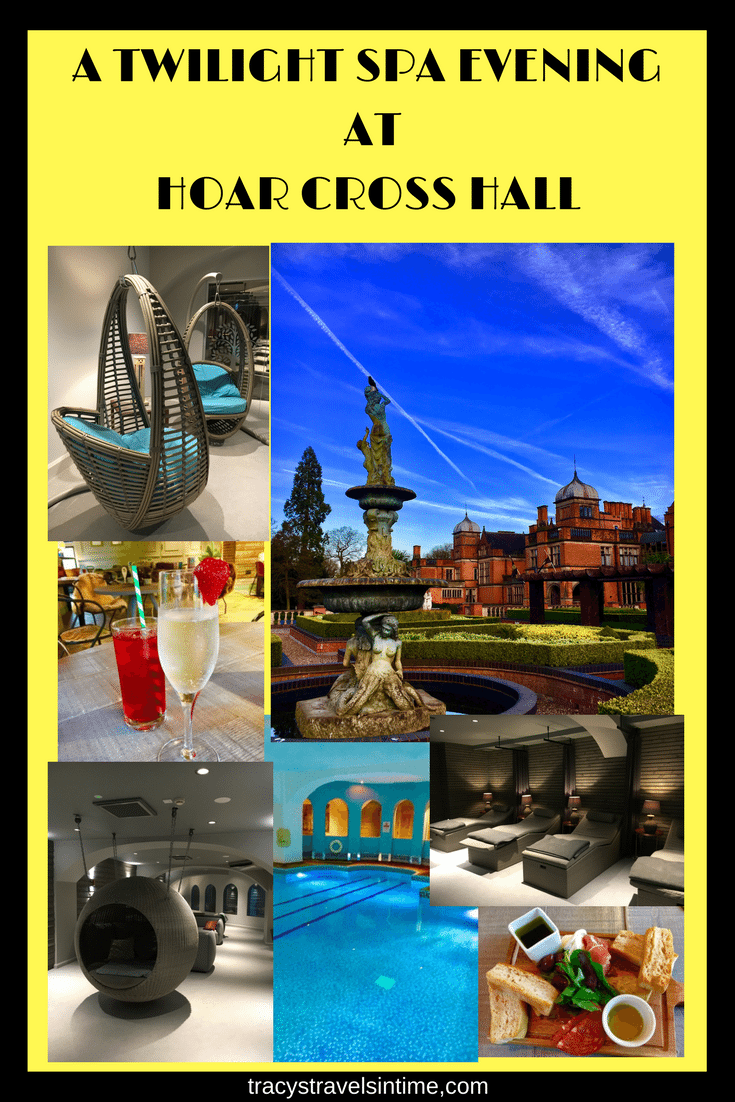 My husband and myself were guests of Hoar Cross Hall for the purposes of this review. All opinions are – as always -my own.
This post may contain compensated links. Please read our disclaimer for additional information. As an Amazon Associate, I earn from qualifying purchases.
Over the last 50 years I have lived and worked in 7 countries on 4 continents and travelled to many more. I enjoy exploring and learning about new places and meeting people on my travels. History, reading, photography, nature and wildlife are my interests and I am ALWAYS researching and planning my next trip (preferably by train)
With a lifetime of travel experience, and a network of friends all over the world, I share genuine insider guides, recommended best book lists and train journey inspiration to help YOU travel authentically to some of the most beautiful places on earth.
Come and join me as I travel the world one country (and train journey) at a time!