This post may contain compensated links. Please read our disclaimer for additional information.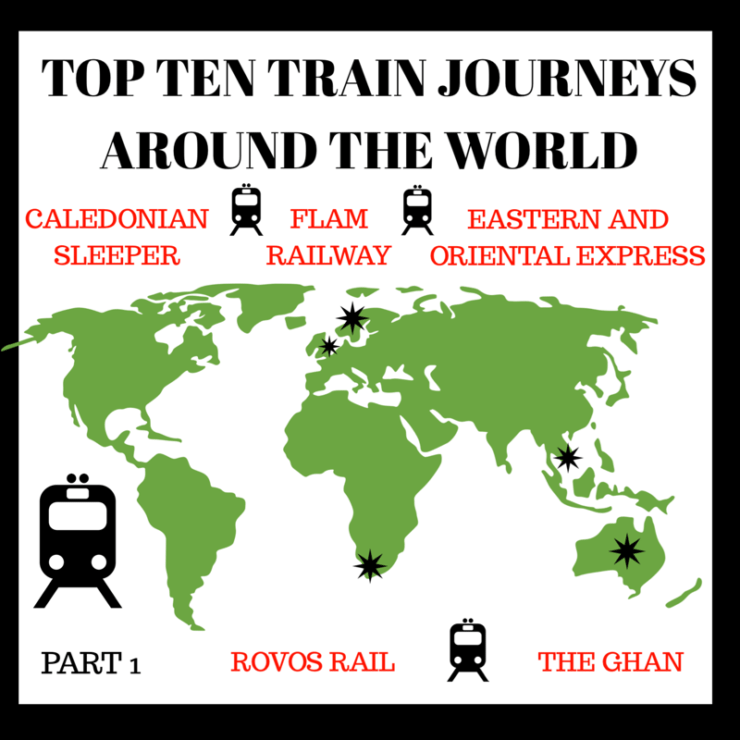 I love train travel and it is always my preferred method of transportation for many reasons.
The ability to sit back, relax and enjoy the scenery in a comfortable seat in a railway carriage has got to be the best way to travel.
I have been on some of the great rail journeys around the world although still have quite a few on my bucket list. I also love sleeper trains though admit they are not always the most comfortable method of travelling.
This list of top 10 amazing train journeys around the world includes some of the most luxurious trains but are also scenic shorter trips that can be more affordable for most travellers.
Here are the my first 5 choices for the best 10 railway journeys around the world? 
---
GREAT RAIL JOURNEYS – THE GHAN – AUSTRALIA
---
To take a trip on the Ghan is at the top of my bucket list. This epic journey across Australia takes you 2979 kms from coast to coast (Adelaide to Darwin and vice versa) and across the red centre of this amazing continent. There are a number of options to take on Southern Railway's Ghan train service including the epic Ghan Expedition which takes 4 days and 3 nights to cross the continent. Imagine that? Well yes I can and I cannot wait to take this train.
The Ghan's symbol is the camel and its name comes from the epic camel riders who blazed a trail into the red centre of Australia over 150 years ago.
To find out more about The Ghan check out their website – I look forward to the day when I can write up my experience of taking this epic train.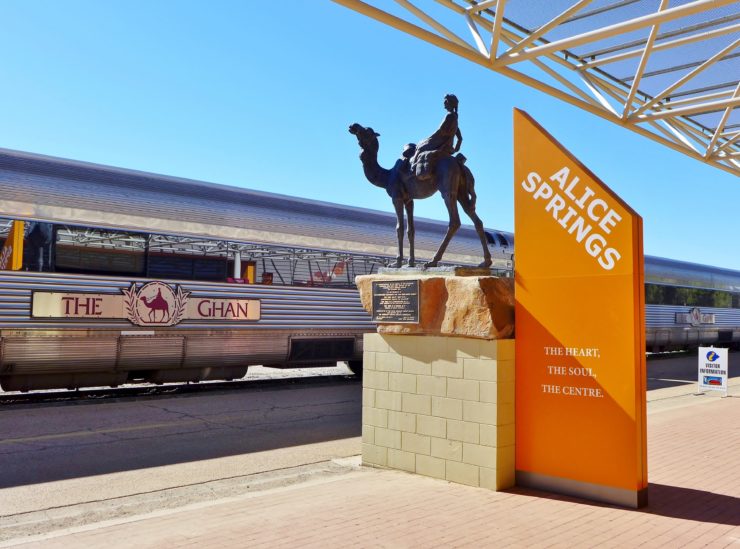 ---
THE BERNINA EXPRESS – SWITZERLAND
---
Mention beautiful train journeys and countries that spring to mind always include Switzerland. For good reason – the scenery in this beautiful Alpine country is breathtaking. I have taken many train journeys in Switzerland and have quite a few favourites including catching the train from Geneva to Zurich (Lake Geneva is gorgeous), the cog railway up Mt Pilatus and taking the train from Zurich to Milan.
However famous train journeys include the Glacier Express, the train journey to the Top of Europe and of course the Bernina Express.
A few years ago I took the Bernina Express from Tirano in northern Italy to Chur in Switzerland with my niece.  The journey takes about 4 hours and is one trip where sitting back sipping a glass of prosecco whilst passing through some of the most beautiful scenery in the world is a must.
To find out more about the Bernina Express and other panoramic rail trips available in Switzerland read my post all about our experience as well as the Rhaetian Railway  website!
Why not include a trip on the Bernina Express into your Europe train trip itinerary?
---
ROVOS RAIL – PRETORIA TO CAPE TOWN SOUTH AFRICA
---
There are many different routes to choose from with this luxury train company based in South Africa. One of their routes runs 1,600 km from Pretoria to Cape Town and this is the route I have chosen for this list (though their 15 day Cape Town to Dar es Salaam route is a close second!)
Stops along the route Pretoria to Cape town include a visit to Kimberly where you can peer into the Big Hole and visit the Diamond Museum! If you are in Cape Town read my insider's guide for the best things to do and see when you are there.
Check out the Rovos Rail site to book this amazing experience.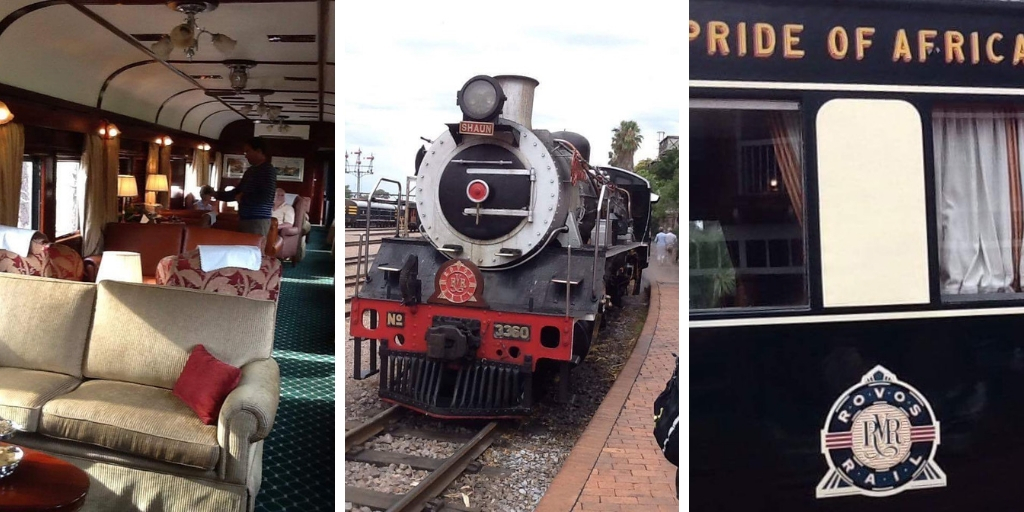 ---
EASTERN AND ORIENTAL EXPRESS – BANGKOK TO SINGAPORE
---
Another classic journey is the Eastern and Oriental Express train service which runs between Bangkok and Singapore. Crossing from Thailand through Malaysia before finally entering Singapore (or vice versa) this trip is synonymous with luxury where the train itself is as much a part of the experience as the journey!
Stop off at the River Kwai and also in Georgetown Penang on the trip of a lifetime. Read more about this trip here!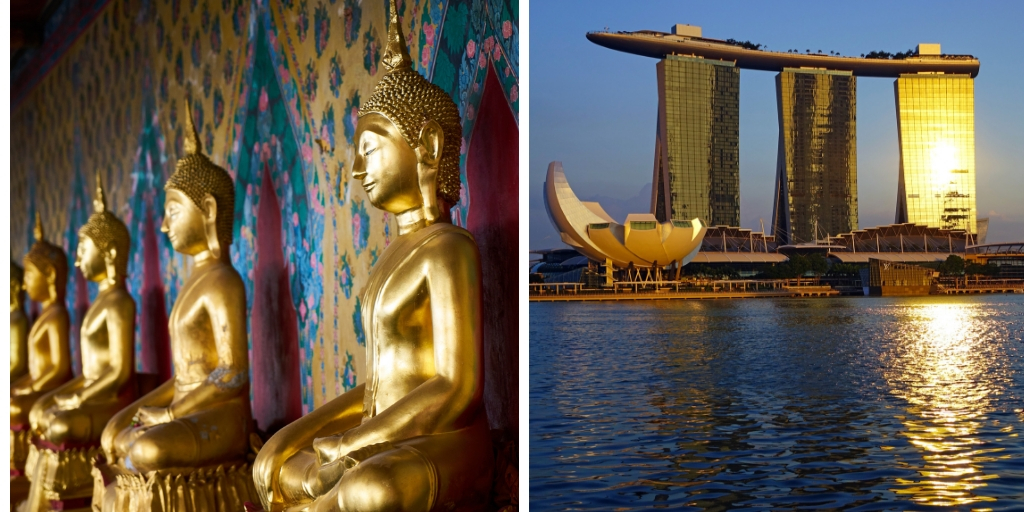 ---
 FLåM RAILWAY TO MYRDAL – NORWAY
---
I make no secret of my love for Norway! One trip that should be on any train lover's bucket list is the stunning journey between Flåm and Myrdal.
Make sure to experience the beautiful boat journey from Gudvangen to Flam along the magnificent Sognefjord and Aurlandsfjord before catching the train from Flåm up to Myrdal. The return train journey takes about 2 hours and you will see magnificent waterfalls, mountains and the fjord landscapes on your trip.
To find out more about the Flamsbana check out their website.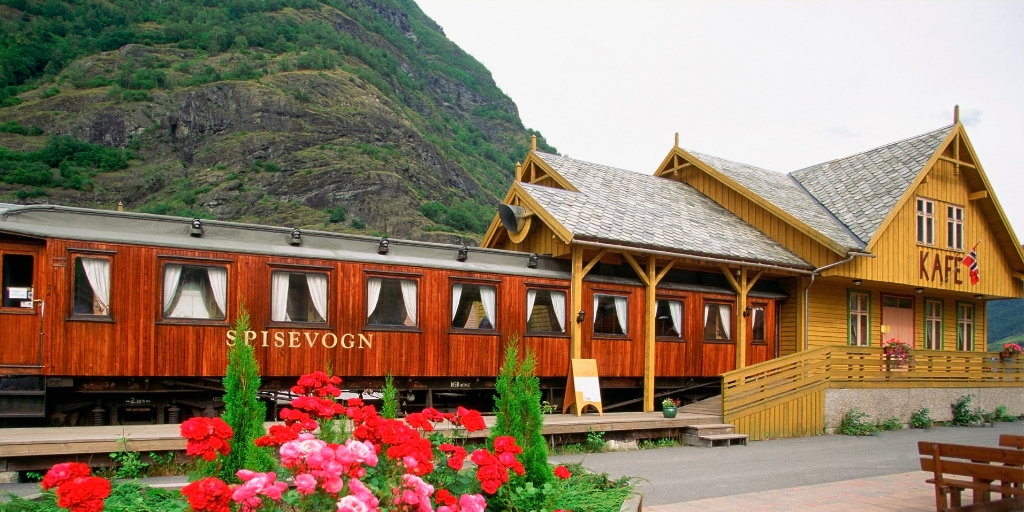 ---
GREAT RAIL JOURNEYS – CALEDONIAN SLEEPER – UNITED KINGDOM
---
For my 5th choice in my top 10 railway journeys around the world I have chosen the Caledonian Sleeper. We took this sleeper service a few years ago but since then the stock has been updated and therefore this journey remains high on my re-do list.
The Caledonian Sleeper offers a number of routes from England to Scotland ending in Aberdeen, Inverness or Fort William on the Highland route or Glasgow or Edinburgh on the Lowland route. (And vice versa obviously!)
We wanted to go to Fort William but unfortunately the line had been damaged following a massive storm so we travelled from Euston to Inverness but what a trip it was! Waking up to stunning Scottish scenery will be an abiding memory. If Fort William is your destination depart Euston at 9:15 pm and arrive in Fort William at 9:55 the following morning.
First Class (your own room and single bed), Standard Class sleeper room with twin beds (we took this) and a standard sleeper seat are options on this service.
Check out the Caledonian Sleeper website here!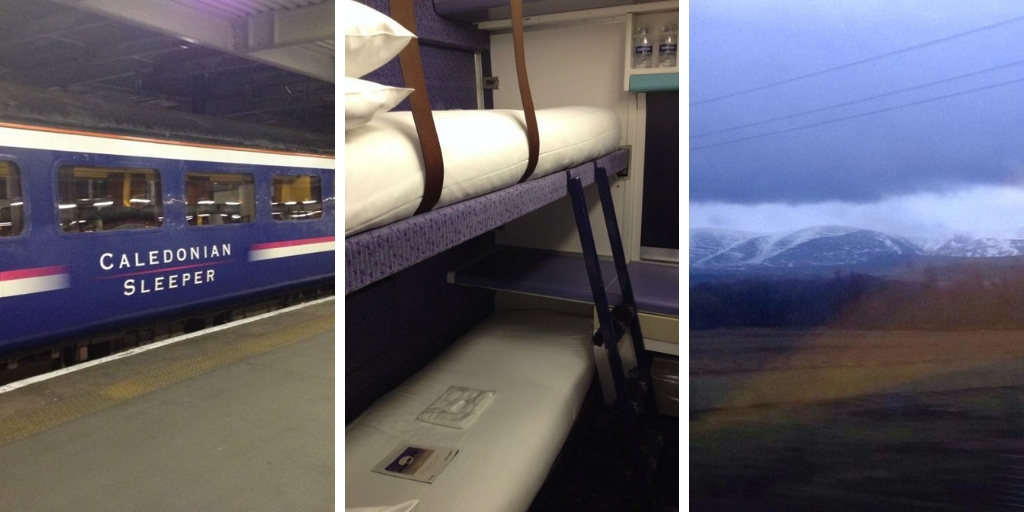 ****
Those are my first 5 choices of top 10 railway journeys around the world!  Have you traveled on any of these services? Do you have a favourite that is not on my list? Maybe it made it onto my final 5 choices  – CLICK HERE to find out which train trips I picked for the final 5!
PIN FOR LATER!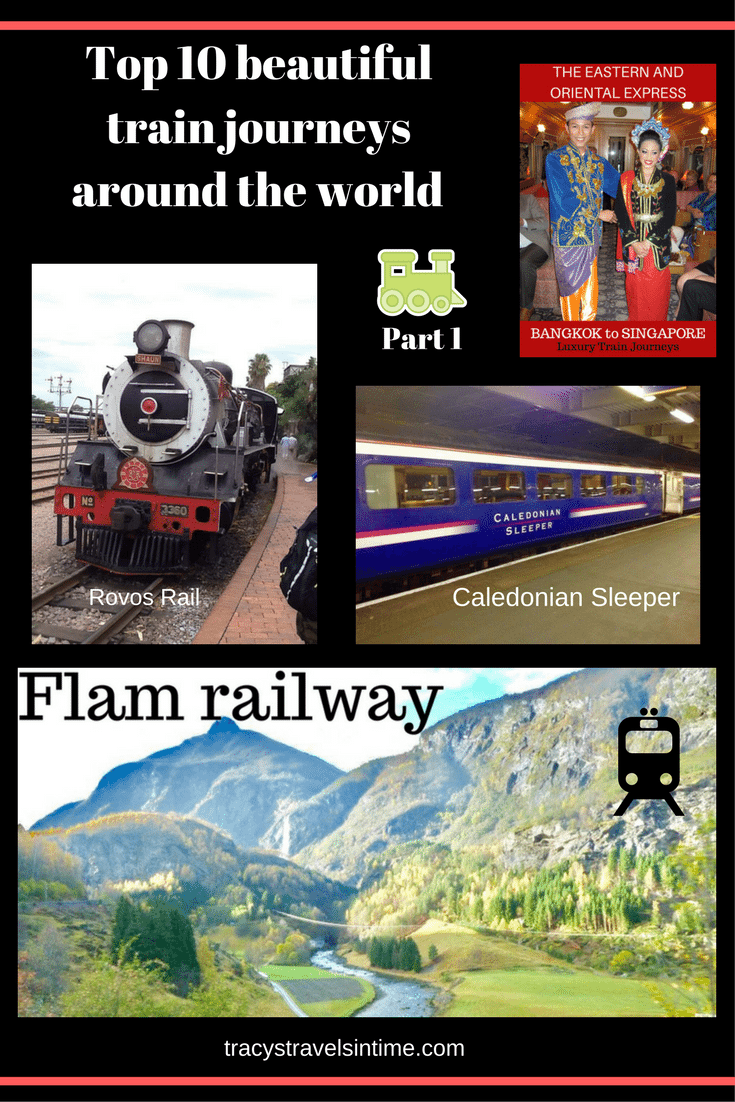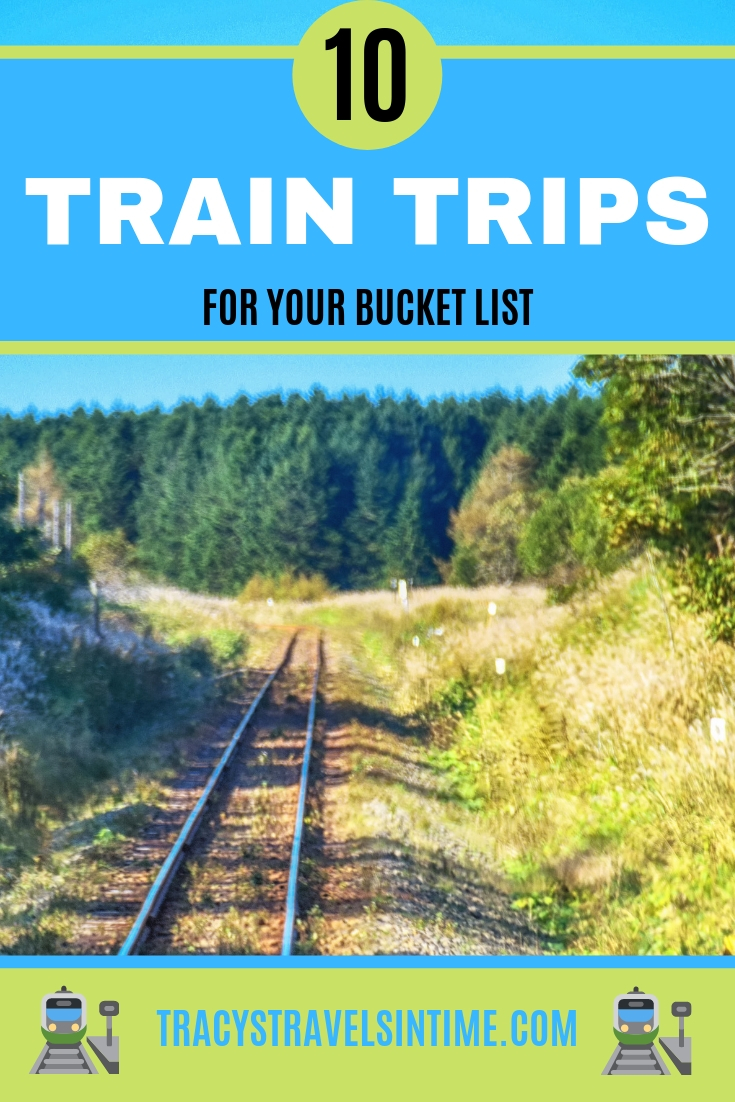 YOU MAY ENJOY THESE POSTS TOO!
CLICK FOR EXCLUSIVE ACCESS TO MY RESOURCE LIBRARY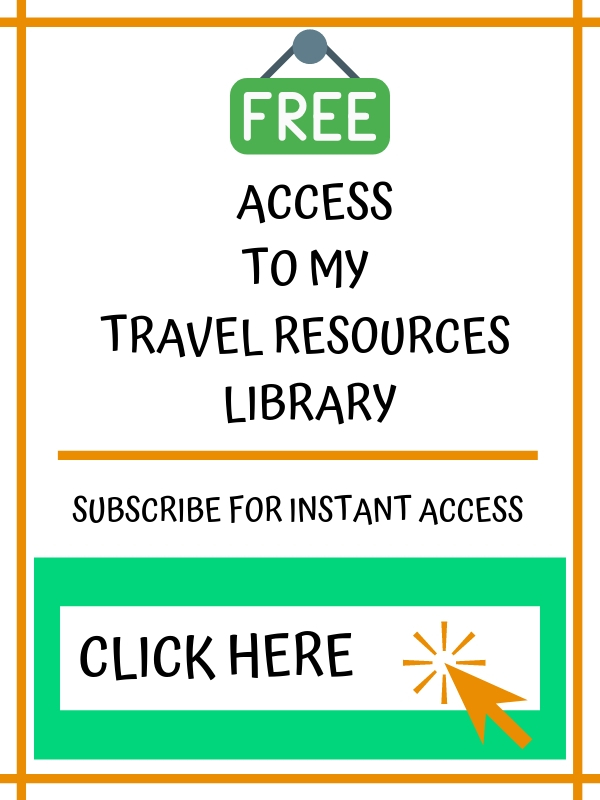 ---
---
Over the last 50 years I have lived and worked in 7 countries on 4 continents and travelled to many more. I enjoy exploring and learning about new places and meeting people on my travels. History, reading, photography, nature and wildlife are my interests and I am ALWAYS researching and planning my next trip (preferably by train)
With a lifetime of travel experience, and a network of friends all over the world, I share genuine insider guides, recommended best book lists and train journey inspiration to help YOU travel authentically to some of the most beautiful places on earth.
Come and join me as I travel the world one country (and train journey) at a time!
This post may contain compensated links. Please read our disclaimer for additional information.