This post may contain compensated links. Please read our disclaimer for additional information. As an Amazon Associate, I earn from qualifying purchases.
This year both myself and my daughter are celebrating big birthdays. Reason to celebrate (or mourn in my case!!) so when my Mum suggested she treat us to a luxury spa break at Hoar Cross Hall Spa Hotel I was rather excited.
Now when it comes to breaks my idea of fun generally involves hopping onto a train or plane and taking off for a few days or weeks exploring a new part of the world. So I had in all 50 (cough cough) years never been on a spa break!!
Hoar Cross Hall is situated in the Staffordshire countryside just a few miles from where we live – I had heard great reviews from friends but had still never been. So it was with much anticipation that my Mum, daughter and myself arrived for our 3 day break!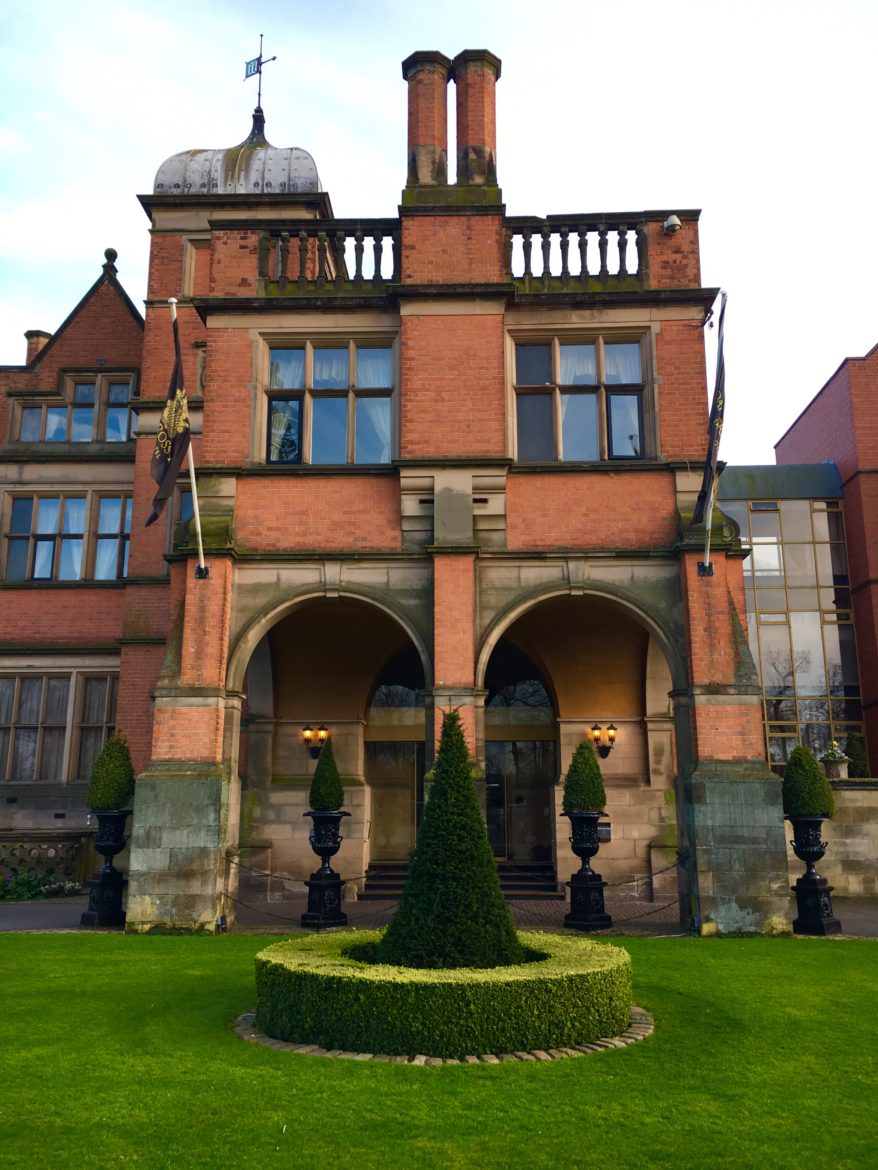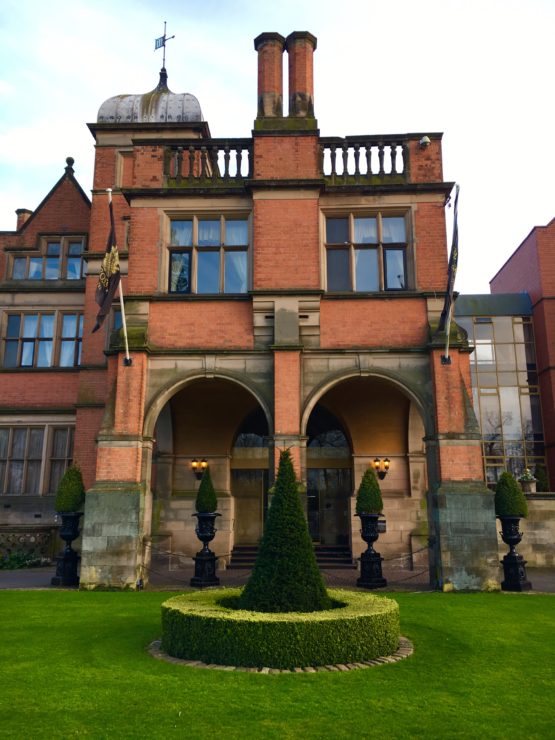 Checking-in and our room at Hoar Cross Hall
Checking-in went smoothly and we were soon in our lovely room. There are a total of 96 bedrooms and suites in the hotel – each elegantly decorated with antique furnishings. And each named! Although it wasn't our room my daughter was pleased to find out that she was now a Countess!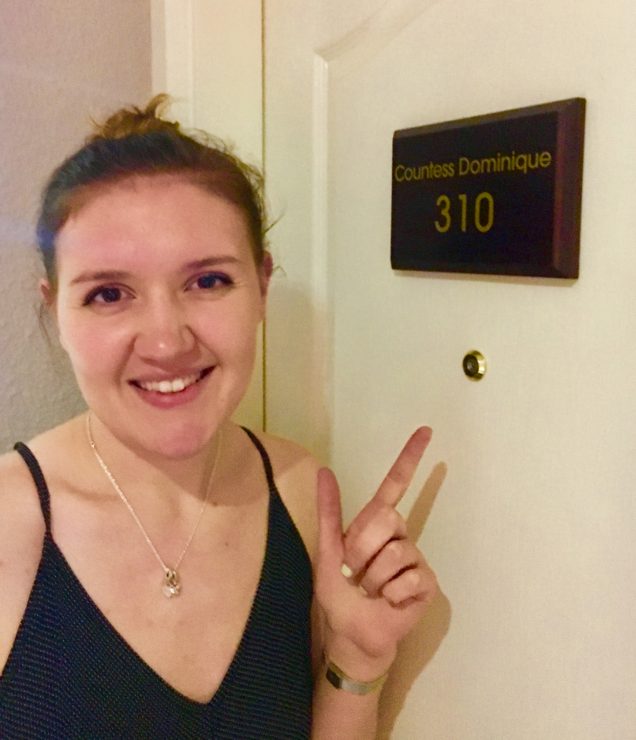 Our room was a triple and had 2 parts which were joined  by a small corridor. On the right side as you entered the room was a twin bedded room with a bathroom with bath while on the other left side was a single bedded room with a bathroom with a shower.
Luxury toiletries were provided as well as a robe and slippers. Tea and coffee making facilities were available as well as complimentary bottles of water. A flat-screen TV, hairdryer and safe were also in the room. When I needed an iron this was quickly supplied by housekeeping.
Wi-fi was free and fast and there was no problem connecting quickly.
We also had a lovely view from our room.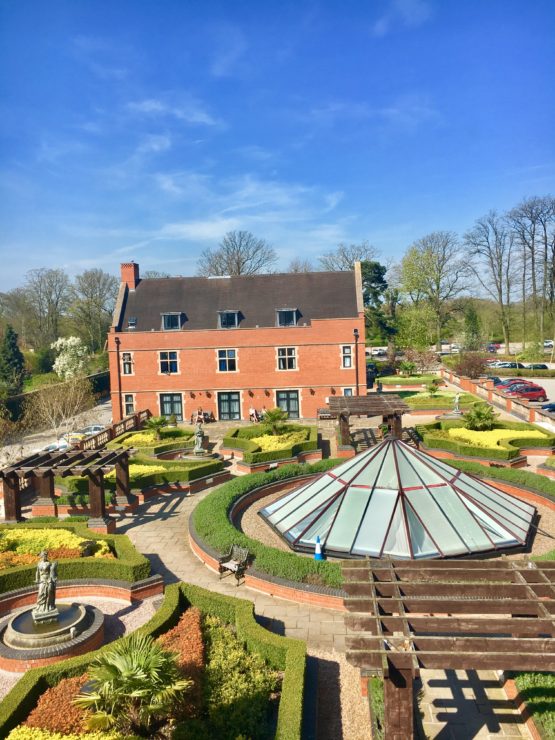 The hotel has beautiful grounds to walk in as well as some lovely areas to sit in and enjoy a drink, read a book or perhaps take afternoon tea.
The hotel and spa are large and you will need the map you are given at check-in! We did get lost a few times but after a while started to get a good idea of the layout. TIP – You can book a tour of the hotel and spa though and I think we should have taken the time to do this as it would have saved some time wandering around lost!
Fine dining at Hoar Cross Hall
Breakfast, lunch and dinner were all included in the price of our stay and I have to say the food was superb. Both breakfast and dinner were in the Ball Room on the ground floor while lunch was served in Hugo's which is in the Spa.
Breakfast is a buffet style but additional items can be ordered such as boiled eggs. Lunch – a 3 course affair – consisted of a buffet starter of various salads and soup, a choice of a number of main courses as well as the dish of the day and then a selection of desserts (including a cheesecake of the day option).
Dinner was really the star of the show. Both evenings we had a few cocktails at the bar before dining in the beautiful Ball Room.
There are plenty of options for each course and we all throughly enjoyed every meal. The waiters and waitresses were all very friendly and professional.
Located on the ground floor of the hotel is Sally Bee's Nutrilicious which offers a number of delicious meal options in a comfortable laid back environment.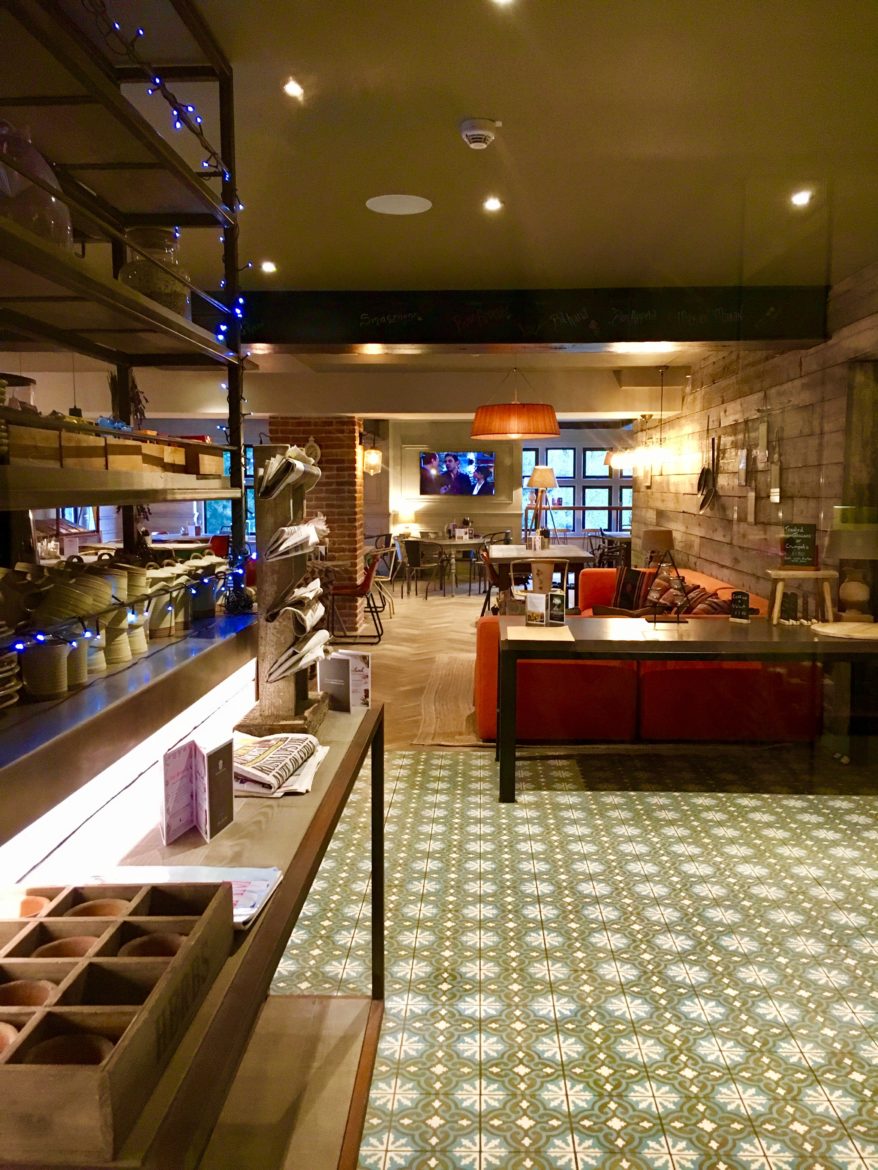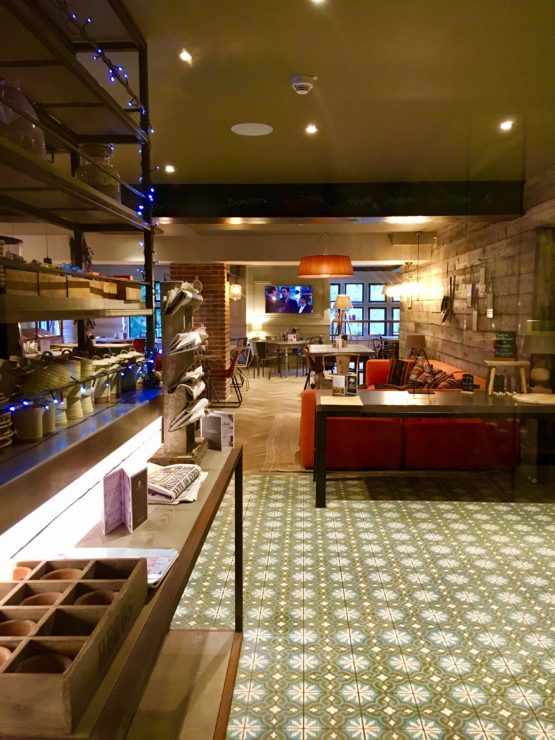 The Spa at Hoar Cross Hall
The spa experience at Hoar Cross Hall was fantastic and truly exceeded my expectations. There are 2 main pools – a hydra therapy pool and a salt water vitality pool. We loved the aqua massage and nordic heat and ice areas. Each of the pools also has at least one spa pool too and the Salt Water Vitality Pool also has a cave to sit in and relax! I loved trying the sauna, steam rooms, aromatherapy rooms and pools. If you want to relax there are lots of sun beds to sit on and spend time reading or simply chilling out.
There are lots of changing rooms if you are just visiting for the day and on the day we checked out we simply stored our clothes in a locker and used one of these to dress in.
There is also an area called the Sanctum which was fantastic. In the sanctum were sofas, hanging pods and an area with comfy loungers and blankets to just lie and relax in. We loved the pods and spent some time in them completely relaxing to the soothing music played in the sanctum. There are only two (two people can fit in each) and they were very popular.
Classes
There is an extensive list of classes to attend though I must confess I didn't attend any! My daughter did however and throughly enjoyed the boxfit and  archery classes. Unfortunately the yoga class was cancelled so she was unable to try that – maybe next time!
Treatments
Treatments need to be booked and you need to make your way to the atrium before your treatment slot. This is a very comfortable area to wait in and after a few minutes your therapist will come and collect you.
I had a full body massage which was fantastic. The therapist – Rachel – was excellent. She ascertained what I wanted to get out of the massage and if there were any particular areas to focus on (I wanted a relaxing massage but my lower back and neck to have a good work out!) My Mum and daughter chose a facial with a massage. They both reported that their treatments were superb with the hot stone massage receiving particularly high acclaim.
We also had a manicure each – such a treat. Again our therapists were lovely – friendly and professional. We chose our nail varnish which we received with a nail file at the end of the manicure. I thought this was a lovely touch.
Additional information for your visit to Hoar Cross Hall
We had a fantastic break at Hoar Cross Hall Spa Hotel. Everything was perfect – the setting, the spa, the food and the treatments are excellent. Check out the Hoar Cross Spa Hotel website where you can find information about everything this idyllic spa hotel has to offer.
Disclaimer – We received some complimentary treatments from Hoar Cross Spa Hotel for the purposes of this review but all views expressed are purely and totally my own.
---
PIN – A LUXURY SPA EXPERIENCE AT HOAR CROSS HALL SPA HOTEL
---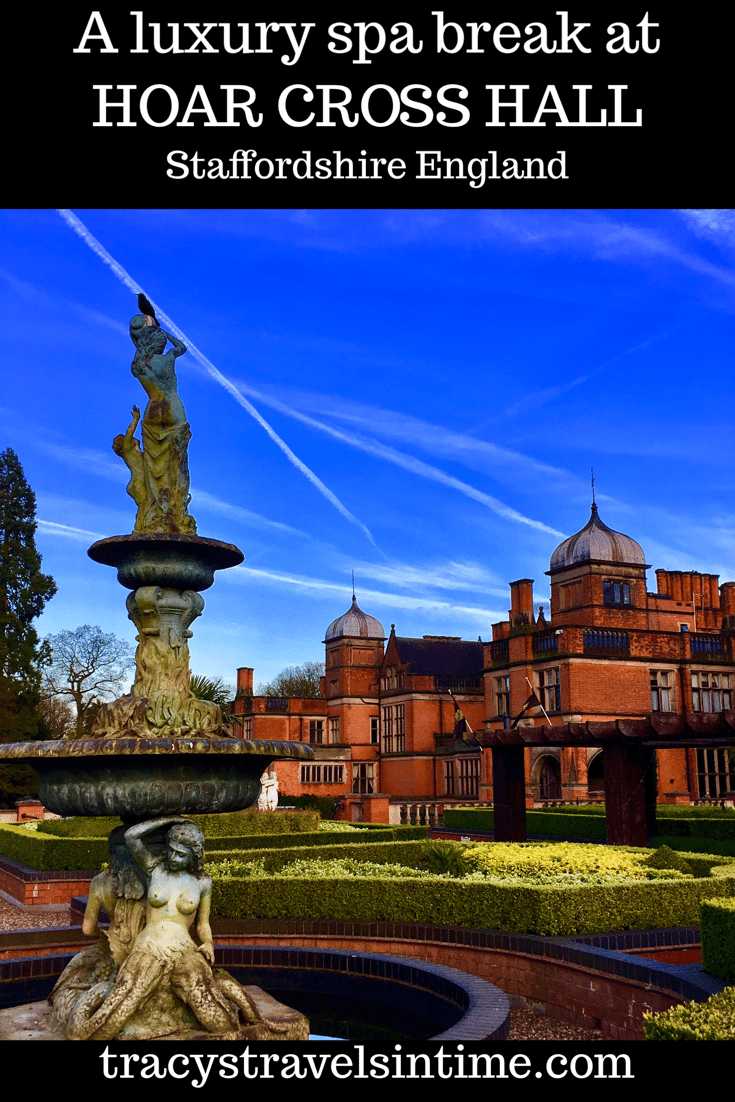 This post may contain compensated links. Please read our disclaimer for additional information. As an Amazon Associate, I earn from qualifying purchases.
Over the last 50 years I have lived and worked in 7 countries on 4 continents and travelled to many more. I enjoy exploring and learning about new places and meeting people on my travels. History, reading, photography, nature and wildlife are my interests and I am ALWAYS researching and planning my next trip (preferably by train)
With a lifetime of travel experience, and a network of friends all over the world, I share genuine insider guides, recommended best book lists and train journey inspiration to help YOU travel authentically to some of the most beautiful places on earth.
Come and join me as I travel the world one country (and train journey) at a time!