This post may contain compensated links. Please read our disclaimer for additional information. As an Amazon Associate, I earn from qualifying purchases.
In this post I have collected together an extensive collection of some of the best books written by people who have travelled the world in all sorts of different ways! If you are looking for some inspiration for your next trip or simply want to marvel at the ingeniousness of mankind read on!
A few hundred years ago travelling the world was not easy. You could walk, ride a horse or even build a boat and hope it took you to some undiscovered continent. Ordinary people were more likely to be born, live and die without setting foot more than a few miles away from their town or village. From the 19th century onwards bicycles and trains increased your options but you had to wait a little longer for the ability to travel using cars, motorbikes and airplanes.
Of course these days we can hop on a plane and arrive in Australia 24 hours later from even the furthest reaches of the globe. But I do wonder what we are missing along the way while we hurtle along at 38,000 feet?
Lots of ingenious people decided other options appealed far more than flying on a jet plane when they set out to explore the world. Luckily for us all of those adventures have been written down, published and shared for our enjoyment!
This collection features some of the best (and quite frankly funniest) accounts of some of the amazing ways people have travelled the world.
BOOKS ON TRAVEL BY 
CAR | LONDON CAB | FOOT
TRAIN | PUNT | BICYCLE | BUS
DONKEY | BALLOON | CRUISE SHIP
 SURFBOARD | THUMB | VAN | MOTORBIKE
---
BOOKS ON TRAVEL BY CAR
---

Do you like road-trips? As a family? You will love this hilarious account of one family's 8000 mile journey around Britain!
They were bored, broke, burned out and turning 40. So when Ben and his wife Dinah were approached to write a guidebook about family travel, they embraced the open road, ignoring friends' warnings: 'One of you will come back chopped up in a bin bag in the roof box.'
Featuring wonderful tales about deadly puff adders, Billie Piper's pyjamas and a friend of Hitler's, this is ultimately a story about love, death, falling out, moving on and growing up, and 8,000 misguided miles in a Vauxhall Astra!
---

National Geographic presents the great outdoors through the world's best auto trips, for nature lovers, hikers, and adventurers. Pack your suitcase, load up the car, and head for the open road!
This lavishly illustrated, hardcover travel planner and gift book gives you every bit of information you'll need to navigate 400 amazing driving routes in some of the world's most fascinating locales.
---

Two Brits, George and Mark, set off from New York City to explore the back roads of America. In this calamity-ridden travel tale they set out in true clichéd fashion to discover the real America.
Throw in plenty of run-ins with the police, rapidly dwindling finances and of course Josephine – the worst car in the world – and you have all the ingredients for a classic American road trip. Will George and Mark make it all the way to California?
---
BY LONDON CAB
---

3 friends decided to by a London taxi cab and head for Sydney on this 43,000 mile trip across the world.
Their adventures include altercations with the Iranian secret police and narrowly escaping the Taliban.  Enjoy their hair-raising adventures and tales of the people they pick up along the way!
---
BOOKS ON TRAVEL BY FOOT
---

He had been an ordinary hiker who had only read books about mountaineering. When the author signed up for an organised trek in Nepal with a group of elderly ladies, little did he know that ten years later he would be attempting to climb the world's highest mountain.
If you love climbing you will enjoy Mark's portrait of the joys and torments of a 21st century Everest climber.
---

Discovering a lost world as the author follows tracks, sea paths and holloways on his journey across the vast ancient network of routes criss-crossing the British Isles and beyond.
---

Tom Deniss became the fastest person to run around the world – yep all the way around by foot! That fact just exhausts me thiking about it. Read all about Tom's adventures and encounters along the 26,232 km run!
---

Walking the backbone of England, the Pennine Way, Simon Armitage gives a poetry reading in a different village every night in exchange for a bed. Find out how he gets on as he traverses England armed with poetry, Mars bars and a collection of friends he meets along the way.
---
Walking across India on the smallest of budgets Alastair Humphreys  experiences the dusty enchantment of ordinary, real India.
---

Walking almost 5000 kms across China adventurer Rob Lilwall takes us with him to experience epic landscapes, the Great Wall and into the rapidly industrialising cities of backwater China.
---

Crossing the Himalayas on foot along the ancient trade route of the Silk Road to the kingdom of Bhutan Levison Wood encounters nomadic goat herders, extremists and natural disasters. Follow his footsteps in this tale of endurance and survival.
---
BOOKS ON TRAVEL BY TRAIN
---

Anyone who loves train travel will know the writings of Paul Theroux – this collection of 3 of his best books is an absolute must for any train travel lover out there!
---

This is the book I hope to rewrite one day – traveling around the globe by train and writing about it! So exactly why is it that people love train travel so much? (You may be interested in my post 10 reasons to travel by train!)
---

Stories of some of the lost trains of Britain and evocative of the magical age of train travel in the UK Michael Williams account will make you yearn for the magic of train travel.
---

Covering 40,000 km and 80 train journeys across India Monish Rajesh goes in search of her roots. A fantastic read for anyone who has ever dreamt of traveling India by train.
---

Flying to Australia is boring, especially if you think of all the fascinating countries you are bypassing – that are out of sight below the clouds. Like millions of others I've flown to Australia, and been bored stiff, but this time I'm going overland by train. This is another book that I hope to experience in real life one day!
---
BOOKS ON TRAVEL BY PUNT
---

Following the course of the third largest rover in England – the River Trent – Tom Fort journeys through the heart of Middle England. Sometimes by foot, sometimes by bicycle by mainly on a plywood fifteen foot punt!
---
BOOKS ON TRAVEL BY BICYCLE
---

Another epic tale from Tim Moore. In this adventure he tackles the 9,000km route of the old Iron Curtain on a tiny-wheeled, two-geared East German shopping bike. What could possibly go wrong?
.
---

The story of a 30,000 mile journey across the world from Siberia to England.
---

The account of an epic 500 mile cycle ride around the entire coastline of Britain – the equivalent of London to Calcutta.
---
BOOKS ON TRAVEL BY DONKEY
---

Another fabulous book by Tim Moore – what could possibly go wrong when travelling 500 miles by donkey?
---
BOOKS ON TRAVEL BY BALLOON
---

I met Bertrand Piccard once – the pilot of the Breitling Orbiter 3 balloon!  Yes really! Along with his co-pilot Brian Jones follow their epic journey around the world by balloon.
---
CLICK TO JOIN AMAZON'S KINDLE UNLIMITED PROGRAM – FIRST 30 DAYS FREE!
---
Do you read books on your kindle? I love mine and it means I can literally take hundreds of books with me when I travel – no worries about luggage allowance or weight restrictions.
If you read a lot of books why not consider signing up to Amazon's Kindle Unlimited program? For only $9.99/ £7.99 you get access to unlimited ebooks, audiobooks, magazines for any device. It really is a great program and if you click on the link you get your first 30 days absolutely FREE!!
---
PREFER AUDIO BOOKS?
---
Audible, an Amazon company, offers the world's largest selection of digital audiobooks and spoken word content. With Audible, customers can listen anytime and anywhere to professionally-narrated audiobooks across a wide range of genres.
---
BOOKS ON TRAVEL BY MOTORBIKE
---

One mad adventurer, one motor bike that runs on bio fuel and one epic continent.
---

Another epic trip across Australia by motorbike! It seems to be the popular thing to do!
---

Grab your motorcycle and a backpack and join the author as she travels from Melbourne to Perth!
---
BOOKS ON TRAVEL BY BUS
---

Travel the world by bus? Why not – what could possibly go wrong! An hilarious account of a life on the road!
---

Travel Britain by bus and if you have it use your old-age pass! A selection of 5o favourite bus pass routes across the British Isles!
---
BOOKS ON TRAVEL BY CRUISE SHIP
---

You know this is going to be hilarious and shocking! A behind the scenes look at what life is really like on a cruise ship!
---
BOOKS ON TRAVEL BY SURFBOARD
---

Tom Anderson has always loved surfing – anywhere except the UK. But a chance encounter leads him to a series of adventures on home surf… As he visits the popular haunts and secret gems of British surfing he meets the Christians who pray for waves (and get them), loses a competition to a non-existent surfer, is nearly drowned in the River Severn and has a watery encounter with a pedigree sheep. All this rekindles his love affair with the freezing fun that is surfing the North Atlantic.
---

A surfer's dream life traveling the world riding waves from Panama to Sri Lanka to the Orkneys.
---
BOOKS ON TRAVEL BY VAN
---

Everyone wants to travel Australia – by foot, car, bicycle, motorbike and of course by van! This hilarious of 3 people on an Aussie road adventure in an old van nicknamed Rusty will have you in stitches.
---
AND FINALLY……… BOOKS ON TRAVEL BY THUMB!
---

All the way from Tasmania to London literally on a thumb and a prayer! An epic journey of 18000 miles covering 18 countries and 3 continents! What a way to do it!
PIN FOR LATER!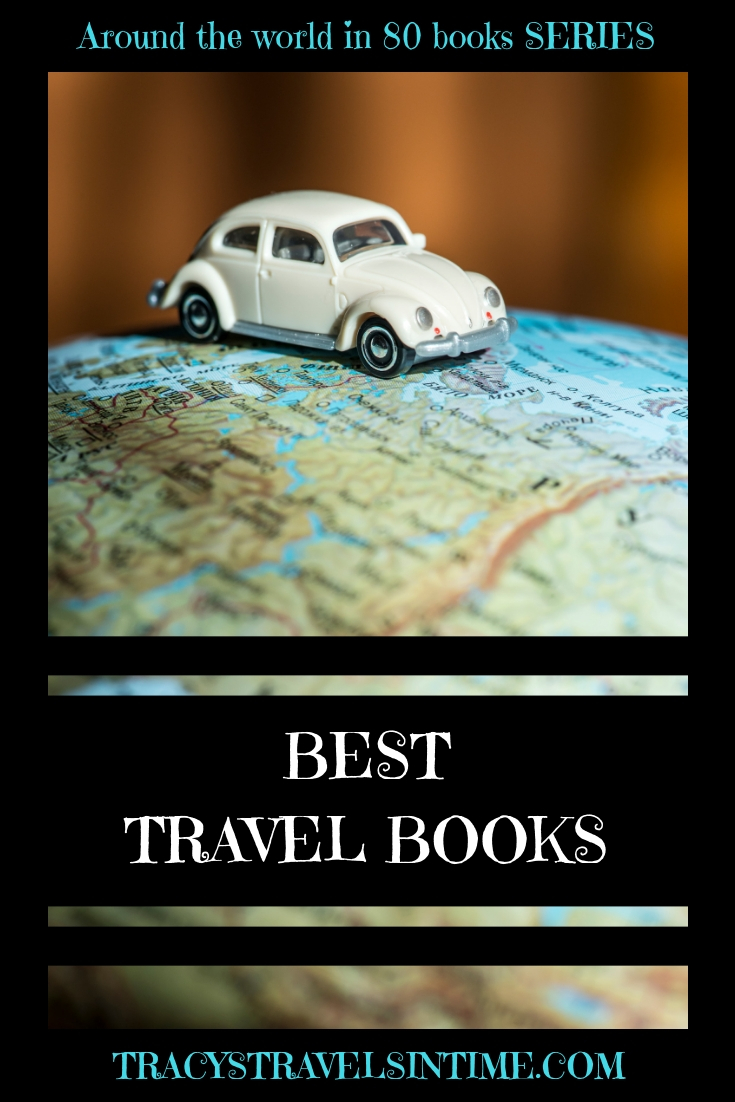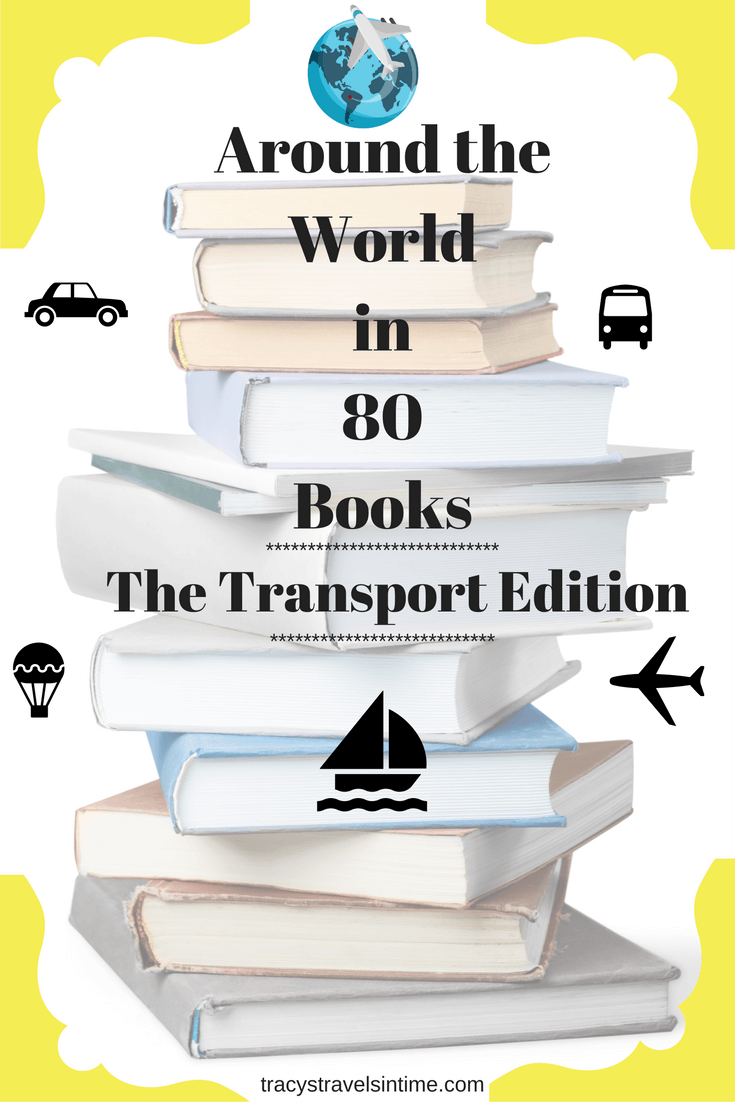 YOU MAY ENJOY THESE POSTS TOO!
CLICK FOR EXCLUSIVE ACCESS TO MY RESOURCE LIBRARY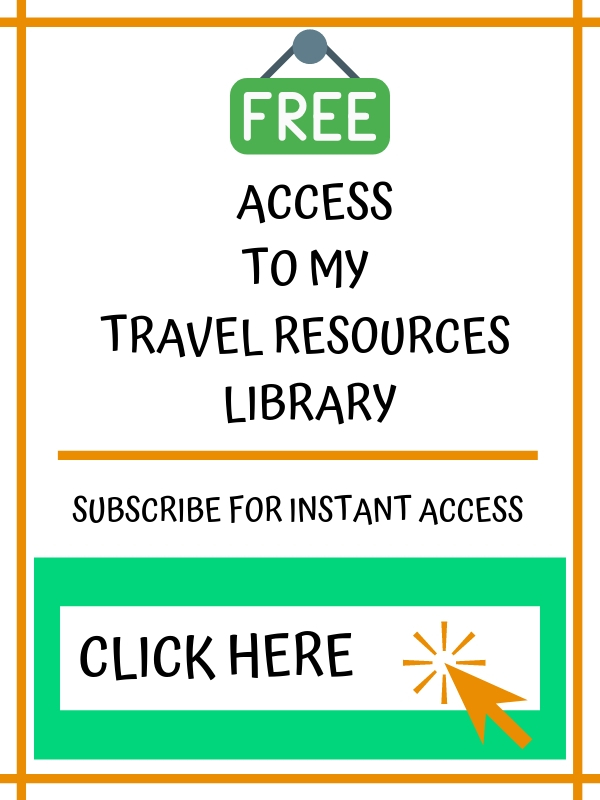 ---
---
Over the last 50 years I have lived and worked in 7 countries on 4 continents and travelled to many more. I enjoy exploring and learning about new places and meeting people on my travels. History, reading, photography, nature and wildlife are my interests and I am ALWAYS researching and planning my next trip (preferably by train)
With a lifetime of travel experience, and a network of friends all over the world, I share genuine insider guides, recommended best book lists and train journey inspiration to help YOU travel authentically to some of the most beautiful places on earth.
Come and join me as I travel the world one country (and train journey) at a time!
This post may contain compensated links. Please read our disclaimer for additional information. As an Amazon Associate, I earn from qualifying purchases.