This post may contain compensated links. Please read our disclosure for additional information. As an Amazon Associate, I earn from qualifying purchases.
FOUNTAINS ABBEY AND STUDLEY ROYAL – A UNESCO WORLD HERITAGE SITE
A few summers ago we spent a few weeks taking a road trip around northern England and visiting Fountains Abbey and Studley Royal was the last of the UNESCO World Heritage Sites we saw during that trip.
We were astounded at its beauty and I wondered why had I not heard of such a beautiful place which was only 1 1/2 hours drive from my home in the UK at that time.
I really want to share its beauty it with you and hope it will inspire you to visit. If you already know of it, have visited, or stayed in properties on the site then TELL everyone you know. In my opinion Fountains Abbey and Studley Royal should be on everyone's itinerary when they visit the UK!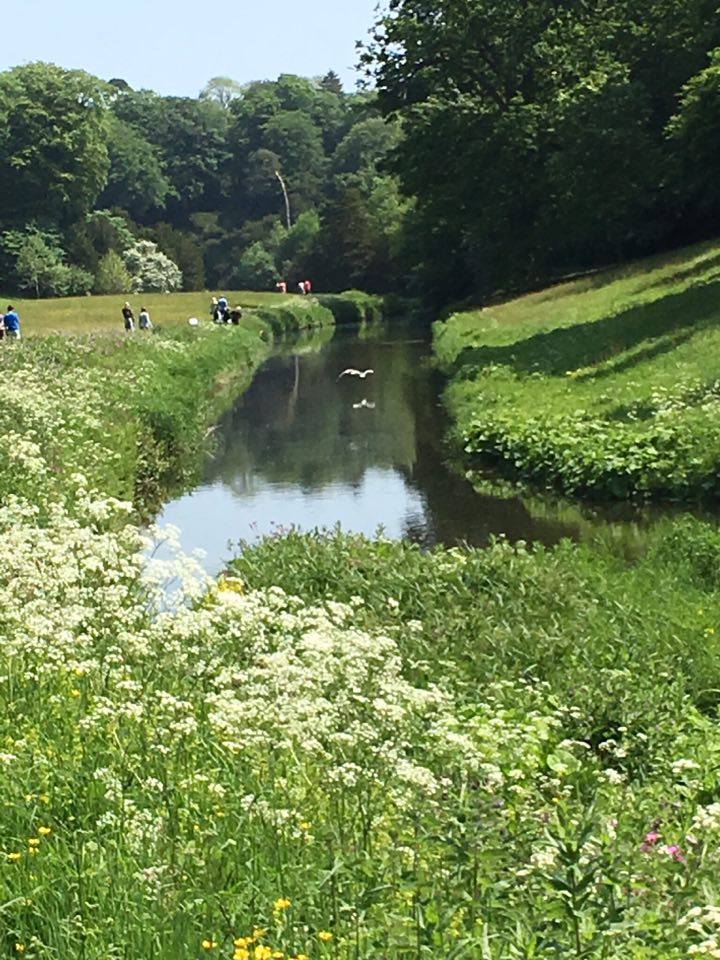 VISITING STUDLEY ROYAL AND FOUNTAINS ABBEY
Fountains Abbey and Studley Royal are free to both National Trust and English Heritage members. The National Trust works in partnership with English Heritage to care for it. If you are not a National Trust or English Heritage member the fee is £16.50 for adults (with gift aid), £8.25 for children, £41.25 for a family (prices quoted from website Sept 2018).
The site is accessible by road and is 12 miles north of Harrogate (postcode is HG4 3DY) by bus, by cycle and by foot (by footpaths and bridleways apparently for all those walkers out there).
Parking is free and on the day we arrived was getting busy (it was a stunningly beautiful summer day).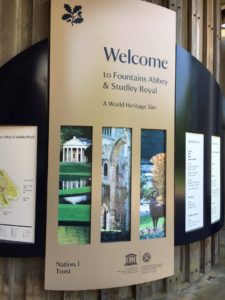 WHAT TO DO AND SEE AT FOUNTAINS ABBEY AND STUDLEY ROYAL
On the day we visited there were loads of events and activities organised so there is plenty to keep you busy! There was an activity sheet available for children the day we were there – I pinched one (see below) so lot to keep the kids occupied. Dogs are also allowed but must be kept on leads.
We decided to walk to the Abbey from the Visitor's centre (there is also a recommended wheelchair route highlighted on the map you are given at the centre). This walk is about 1/2 mile. And when you get to the Abbey be prepared to be stunned….because they are quite simply breath-taking. Seriously.
THE HISTORY OF FOUNTAINS ABBEY
The abbey was founded in 1132 by 13 Benedictine monks – within 3 years the abbey had been admitted to the Cistercian Order. A system of lay brothers was introduced. which left the monks to spend more time dedicated to God, but meant they accumulated huge wealth through the activities of the lay brothers (wool production, cattle rearing, stone quarrying amongst others). Source – see the NT website for more information. In 1539 -as part of the dissolution of the monasteries ordered by Henry VIII – the Abbey was closed down and the estate sold. The National Trust acquired the property in 1983.
The grounds surrounding the Abbey are idyllic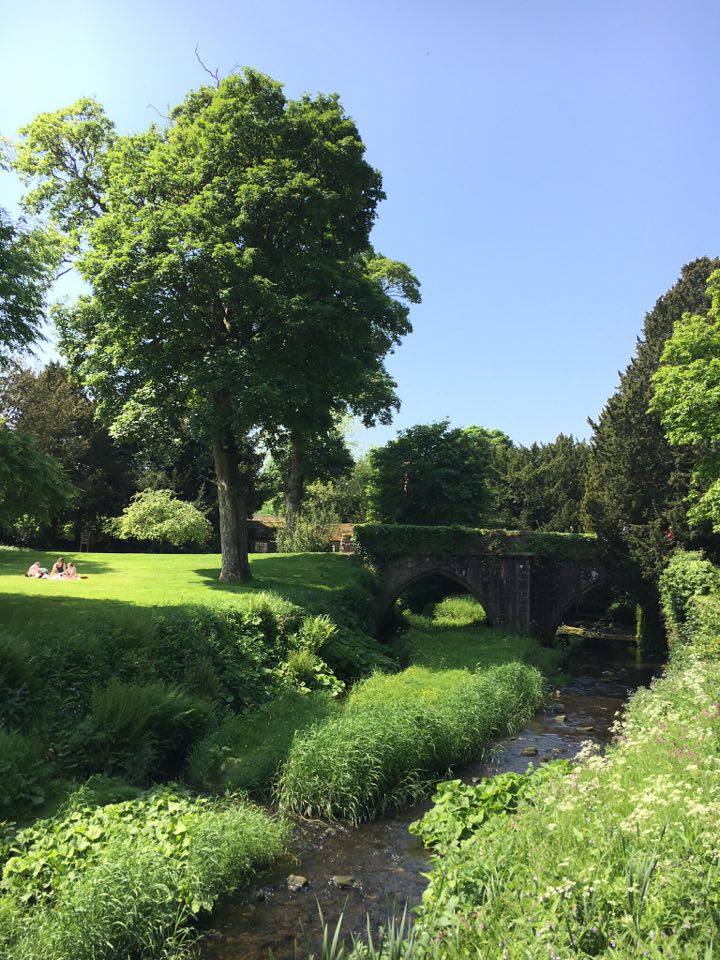 You can walk around the Porter's lodge where there is an excellent display which illustrates the history of the Abbey.
What is left is the remains of the abbey – I will let my photographs speak for themselves. Lots of people took blankets (picnics) and were sat on the grass enjoying the views and the sunshine. It is a peaceful place and I could quite easily have sat there all day. I did however get off my bum and walk around the ruins themselves camera phone clutched in my hand!
So after marvelling at all that you then get to walk along the lakeside and enjoy Studley Royal!!
STUDLEY ROYAL WATER PARK
In the 18th century the owner of the estate one John Aislabie decided to create a water garden….and create one they did! It is stunning (I know I am saying this a lot but I challenge you to visit and not say it!). He purchased the Abbey ruins in 1767 which just makes it perfect! Yes its that photograph again but seriously…how perfect is that? I could have stopped time and stayed there for a long time (as long as I had a good supply of chocolate and wine!)
There are statues and ponds and temples and a tower and beautiful views and walks….take a look:
After walking through the park we stopped off for a rest break at Lakeside (café and ice creams – make sure you have cash as they don't accept cards). We then continued our walk through the deer park (we didn't see any) and passed St Mary's Church and walked back to the car park via a path that also leads to the Visitor's Centre.
We had a wonderful day out and I am keen to hear if you have been to Fountains Abbey and Studley Royal or if you plan to go? Let me know what you thought! I am sure you will love it – especially if the weather is perfect as it was when we visited!
---
PIN FOR LATER = Visiting Fountains Abbey and Studley Royal
This post may contain compensated links. Please read our disclosure for additional information. As an Amazon Associate, I earn from qualifying purchases.
Over the last 50 years I have lived and worked in 7 countries on 4 continents and travelled to many more. I enjoy exploring and learning about new places and meeting people on my travels. History, reading, photography, nature and wildlife are my interests and I am ALWAYS researching and planning my next trip (preferably by train)
With a lifetime of travel experience, and a network of friends all over the world, I share genuine insider guides, recommended best book lists and train journey inspiration to help YOU travel authentically to some of the most beautiful places on earth.
Come and join me as I travel the world one country (and train journey) at a time!